Posts Tagged 'hope'
March 7th, 2010
Hope springs eternal in the human breast;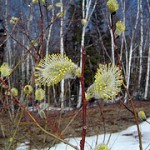 Man never Is, but always To be blest:
The soul, uneasy and confin'd from home,
Rests and expatiates in a life to come.
-Alexander Pope,
An Essay on Man, Epistle I, 1733
Hope springs. Spring and hope. Spring is sprung. Today was the second of two sunny, 50 degree plus days. The snow is finally melting away and snowdrops are blooming in the yard. Danny and I took a long walk, my second in two days, and talked about what we want to do in the garden this year. And with the improvement in my Migraines and my steady new work schedule, it's more likely that I will be able to get out and do some of the work.
There's plenty of yard clean-up to do, but our snow's not all gone yet and the ground is mushy. We spent a while working on getting a large broken limb out of the tree overhanging our driveway – a limb that threatens to fall on our cars with every strong wind. A ladder, a pruning saw, Danny's ingenuity and an apple-picker swung on a rope later, he pulled the monster down. It hit the ground with a resounding thud that made me very glad no car windshields were below it. Or human noggins either. What's amazing is how alive I felt, and how enjoyable it can be to tackle a physical problem like this, out in the fresh air.
I don't know how much we'll get done of our ambitious plans – I still have a few days of Migraine black-out each month, and I am battling constant soreness from my fibromyalgia. Yesterday I was more active than I've been for a while – kitchen clean-up, multiple loads of laundry and a 40 minute walk around town. I ached all over and slept badly. But I set out to match yesterday's activity level today – knowing that if I give in to the aches and stay inactive they'll just get worse.
Danny said when we came in from the yard – "It's a different kind of tiredness – it feels good." I remember that feeling, but I don't really experience it any more. All tiredness makes me ache all over, be it physical, mental, emotional, indoors or out. But my world does open up with the warmer weather. I feel like the whole world has expanded. I want to be out and doing, before New Jersey's hot humid summer comes and shuts me down again.
To all of you with chronic illness – wishing you hope this spring, and that you may enjoy the fresh air and growing things. What do we live for, what pulls us forward, but sublime and ridiculous hope with each new day?
Tags: Alexander Pope, fibromyalgia, gardening, hope, Migraine disease, New Jersey, Spring
Posted in Musings | Comments (0)
February 22nd, 2008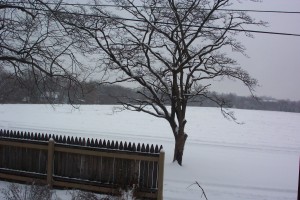 Our kids are out of school for a snow day today. It's the first all year, and I don't think we had even one last year. I wonder why a snow day makes me feel so hopeful?
Maybe it's something visual – take a look at the view off my icy deck.
Snow is not as much fun as it was when I was a kid. I still have to worry about getting my work done to earn a living. I have to cope with clearing it off the walks and driveway. I have to cope with driving in it.  But I have always loved snow, and I still do, despite all the adult hassles it brings. Especially when it's a novelty. I love waking up in the muted bluish light of a snowy morning, from the deep soft sleep the snow always brings. It must be the extra negative ions that make me sleep so well. But rational explanations aside, it just feels like snow magic.
One snowfall does not herald the end of global warming, but it makes the winter feel right, instead of off. If it's going to be cold, it might as well snow. My overburdened migraine mind appreciates the peace and quiet, the way the day is simplified. (Shovel, cancel appointments, shovel, get warm, take kid to sledding hill, throw snowballs at dog.) I like the exercise of the shoveling. A good workout. I didn't get enough sleep and may need a nap to ward off a migraine – lack of sleep is one of my surest triggers. But I know I'll nap well on a snowy day!
I notice that the aches and pains index on weather.com seems to be low when it's snowing.  Barometric pressure changes trigger migraines for many of us – so I wonder if the pressure is very steady while it's snowing. I remember learning in Earth Science in high school that low pressure makes us hurt – because the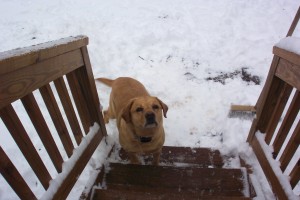 pressure inside our bodies isn't balanced by the pressure outside!  Are snowy days high pressure days?  Any meteorologists out there want to chime in?
Here is the big yellow doofus in the big white snow. Isn't she cute?
Wherever you are, whatever your weather, I hope it's treating you well.
- Megan
How can I do serious work on a snow day?
Tags: high atmospheric pressure, hope, snow, weather triggers
Posted in Musings | Comments (3)