Posts Tagged 'Congress'
April 21st, 2012
Four weeks ago I was one of sixty some-odd Migraine and Headache patients, physicians, and advocates of many kinds to spend a day and a half in Washington DC, lobbying Congress for research funding and recognition of Headache disorders.It was the Alliance for Headache Disorders Advocacy (AHDA)'s fifth annual Headache on the Hill (HOH). I participated in the second HOH three years ago and it was really inspiring to see how the group has grown in the interim. At that time I was one of very few non-physicians and very few bloggers. This year there were any number of patients, bloggers, advocates of many kinds, representatives of Migraine.com and Health Central, and NuPathe. Here we all are in front of the Capitol (I'm the short one in the orange coat):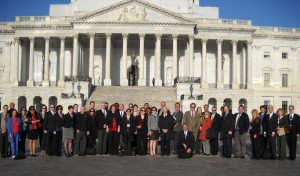 As we tried to spread the message about how incredibly prevalent, disabling and costly these conditions are, we heard a lot of stories. Given that almost 20% of Americans experience Migraine, we discovered any number of legislators and legislative staff who either had Migraine themselves or who could tell us about how disabled their aunt, cousin, friend or coworker is by the condition. There was also a large group of Cluster Headache patients who came down to advocate for headache research. I was moved and amazed by these people who experience what is considered to be the worst kind of pain a human being can experience. Many of them were in the midst of cluster attacks at the time. We found that the legislative staff we visited had never heard of Cluster Headache. The condition is considered rare, but it is as prevalent as Multiple Sclerosis. You've heard of that, right?
We're looking to have Congressional hearings into the impact of Headache Disorders. We brought our 11,000+ signature petition (if you haven't signed yet, do it now please! Headache Impact Petition) and visited legislative aides and legislators from over 30 states. I went to the New Jersey Senators and several Congressmen with my friend, Rutgers Sociology professor Joanna Kempner, who studies the societal impact of Headache. I was moved to tears several times thinking of my sisters and brothers with chronic Migraine who could not be there – it was an honor to be able to represent you. Joanna and I told our stories, and we were able to see what incredible progress the two of us (both chronic Migraine sufferers) had made in the three years since we last walked the Hill together. (Joanna carried the torch for New Jersey by herself for the past two years when I couldn't be there).
Here's some of the information we conveyed to our legislators:
Though it wasn't on our leave-behinds, we also talked about the increased risk of suicide to all Headache Disorder sufferers. (I think sometimes our diseases don't get taken as seriously because they are not considered to be fatal, but between increased cardio-vascular risk and suicide risk, I think they're fatal enough.) In general we had sympathetic listeners in the Congressional aides we met with. Congressman Rush Holt (NJ 12th district) came in while we were meeting with his aide, and both of them gave us a very warm and interested hearing.
We're following up, and results can take a while. In the meantime, please contact your legislators and let them know how you are impacted by Headache Disorders. We can make a difference.
- Megan Oltman
Tags: AHDA, Alliance for Headache Disorders Advocacy, Congress, Headache on the Hill, Joanna Kempner PhD, Rush Holt
Posted in Advocacy | Comments (2)
October 24th, 2009
Betsy Blondin, editor and creator of the spectacular book of art and writing by Migraineurs, Migraine

Expressions, has created a new advocacy campaign. A friend suggested that people purchase a copy of Migraine Expressions for their U.S. Senator or Representative, to help raise awareness and understanding of our disease in Congress. Betsy loved the idea and launched the effort to "Express Migraine to Congress." At least 7 books are on the way to Congress!
To participate, purchase a book for $18.95 here: Express Migraine to Congress, and let Betsy know on the PayPal form or via e-mail which Congress person to send it to. Betsy will keep track of the Congress members receiving books so we won't duplicate efforts on Betsy's blog here.  For each book purchased for Congress, Betsy will donate $1 to the Alliance for Headache Disorders Advocacy (AHDA) toward advocacy efforts.
If you can't afford to buy a book, you can use the links on Betsy's Senate and House of Representatives pages to send a message to your Congress members, asking them to help millions of Migraineurs by supporting Congressional hearings and increased funding for migraine research.
I'll be going to the AHDA's third Headache on the Hill day of advocacy in February, and these books sent to Congress beforehand will help raise awareness of what we are lobbying about. Momentum is building for Congressional action. Our lobbying efforts have resulted in legislative report language supporting increased attention by the NIH for migraine research. Cindy McCain coming forward as a Migraineur and pledging to advocate for Congressional hearings, has to increase our visibility.
Let's support Betsy in this great idea to raise awareness!
- Megan Oltman
Tags: AHDA, Congress, Headache on the Hill, migraine advocacy
Posted in Advocacy, Books | Comments (0)
March 26th, 2009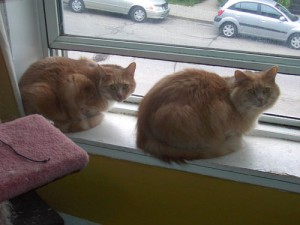 There are two days left to get your email in to Congress (that is, today and tomorrow) requesting that they sign off on language that directs the National Institutes of Health to fully fund research on Migraine and Headache disorders.  You don't even have to think up your own email, or find your Representative's contact information (or know who your Representative is) – all you have to do is click here for the Alliance for Headache Disorders Advocacy's action page.  There you can send your email in less than three minutes and a few clicks.  If you haven't done it already, please do it now.  It will mean better treatment options for all of us.  It will mean more understanding of our disease, and more options in our future.  And if we don't get enough signatures now, it will mean another year of delay, without basic research being done.  Please take a few minutes out to help.  I took three days out to go to D.C. on this effort.  You can take three minutes without leaving your chair.  Thanks!
- Megan
Cats in the window image courtesy of Helene Jutras.
Tags: Alliance for Headache Disorders Advocacy, Congress, Migraine treatment, National Institutes of Health
Posted in Advocacy | Comments (2)