Posts Tagged 'blaming the victim'
June 27th, 2008
I was recently presented with a dilemma here on Free my Brain. I want to encourage dialog and exchange of ideas, but I don't intend to provide an open marketplace for sale of migraine "cures."  (Though I will gladly support and even promote helpful products and services.)  Migraine is a complex, genetically based, neurological disease.  The frequency and severity of migraines vary enormously from person to person; so do the number and complexity of triggers and other contributing factors.  What we know now is that this is a neurological disorder, a differently ordered nervous system, if you will, which has existed throughout human history.  Like many congenital conditions, there may have been a valid evolutionary reason for this mutation at one point.  Maybe migraineurs were the human barometers, predicting disastrous weather changes for primitive societies.  I had fun speculating on the evolutionary basis of migraine in the post Our Ancestress: A Fable.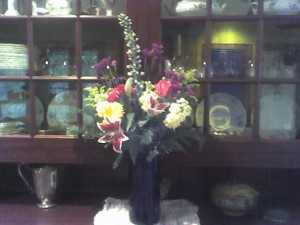 I have heard from many people who have done just one thing and their migraines have gone away.  To them I can only say mazel tov!   (Congratulations!)  Here is a bouquet of flowers to celebrate!   For some it is eliminating just one trigger.  For others it is a particular nutritional supplement, a practice of meditation, regular exercise, a medication, a surgery, pregnancy, menopause, a life or lifestyle change.   I don't know if there are statistics on how many migraineurs find relief from just one thing.  I do know there are large numbers of us out here who need to find a combination of factors to manage and control our migraines.  Here is a bouquet of flowers to console us!  There is no "cure" for a genetically based neurological condition, any more than there is a "cure" for my red hair and green eyes.   (Well, another 15 – 20 years may pretty well eliminate the red hair.)
A great place for some very basic facts and information about Migraine is the recent quiz at My Migraine Connection: Dispelling Migraine Myths.   The two books on migraine featured in the left side-bar on this page are both great resources for learning about migraine and how to manage it.  There is much we can do.  For most of us, we can reduce our migraines significantly.  You have probably heard me say before that I have reduced my own migraine frequency by about 50% through use of abortive medications, supplements, trigger avoidance, relaxation and meditation, and lifestyle changes.
Someone submitted a comment to one of my posts stating that 1) Migraine isn't a disease; 2) there is a cure for Migraine "within us;" 3) he had over 20 years of migraines which are now gone; and 4) you can "retrain" yourself so you have no more migraines; he then went on to promote his methods.  I am genuinely happy for the commenter that his migraines are gone.  I am certainly curious about his methods, and glad that he wants to help others.  I don't mean to suggest he had any but the best motives.  But I am wary of anyone's claim to have a cure.  After some deliberation, I decided not to publish the comment and link.
There are two ways to look at "retraining."  A nervous system which can be easily triggered into a Migraine attack can be viewed as an over-excitable or hyper-reactive nervous system.  Regular practice of meditation and relaxation can help us reduce the excitability of our nervous systems.  Note that this is not a "cure;" it is a supportive exercise or practice which can strengthen our system's ability to resist triggers.  You could call this "retraining."
But there is another view of retraining which comes from an idea that Migraine disease is psychologically generated.  It is not.  It is a real, physical condition.  It is no more psychological than epilepsy or scoliosis.  I view with rage books like Louise Hay's "You Can Heal Your Life" which suggest that right thinking can solve all our medical problems.  She suggests that "Migraine headaches are created by people who want to be perfect and who
create a lot of pressure on themselves. A lot of suppressed anger is
involved…"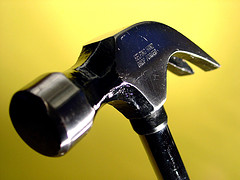 And so, if we work like crazy in therapy, meditate, recite mantras and do whatever highly subjective steps Hay seems to think will enable us to let go of the anger and pressure, if we do all that and we still have Migraines, then what?  We failed?  It's like telling someone the devil is causing their Migraines and they just have to really believe in God.  "I do believe!"  "If you really believed the devil would leave you and your Migraines would be gone!"  "But I really do believe…"  It's just a very sneaky way of blaming the victim!
I wish we could do a scientific study of people who want to be perfect and who put pressure on themselves.  In the first place I bet you that's at least 75% of the population.  And I bet you dollars to donuts that 12% of all the perfectionists would turn out to have Migraine disease.  And I bet that 12% of all the non-perfectionists would have Migraine disease too.  What's the incidence of Migraine disease in the general population?  12%!  I think you get my point.
I have been told that if I only distinguished the beliefs from my past that were making me have Migraines, they would disappear.  I will admit I tried to do that.  Like anyone else, I have a past and beliefs were formed in it!  Some of those beliefs are limiting to me.  In a life of nearly half a century, with plenty of self-help, support groups, personal development courses, and therapy, I think I've managed to identify most of those beliefs.  So why am I not cured of Migraines?  Is it my fault?  Or, wait, could it be that I have a genetically based, incurable neurological condition?  Hmmm…  Which is the more logical conclusion?  And which is more empowering?
For me, the answer is clear.  I am 49, a woman, 5'2″, a redhead, a migraineur.  These are facts.  I get choices about what I do with those facts.  I am choosing to vigorously pursue better and better Migraine management.  I am not wasting my mental or emotional energy on "cures."  Or at least I won't, once I'm done with this rant!
- Megan Oltman
Curing is good for meats, cheeses, wines, paints… Maybe our heads don't need it?
Hammer image courtesy of Darren Hester
Tags: blaming the victim, evolution, genetics, Louise Hay, meditation, Migraine disease, Migraine management, nervous system
Posted in Books, Communicating, Managing, Medicine, Rant, Science | Comments (4)
January 19th, 2008
Gotta rant today. I've been hearing too much about blaming the victims lately. And when we start down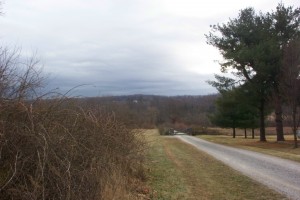 the road of "it's all in our heads"there's danger ahead.
What migraineur has not heard that as a put down? "It's all in your head!"  What people mean by that is, it's psychosomatic, or it's psychological, or snap out of it – you can control this.  Migraines are in our heads – and in other parts of our bodies as well. They are a series of rapid firings of a bunch of overexcited neurons – in our brains, which happen to be in our heads, not our elbows or our spleens. So what? Just because something is taking place inside our head, doesn't mean we have control over it. Try snapping out of it! Try snapping out of depression, or anxiety, or worse yet seizures, or a stroke. Try not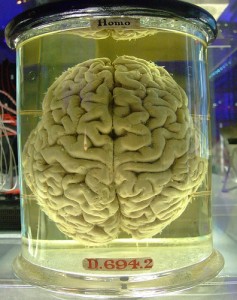 thinking of an elephant while you're at it. We can't even do that!
Is that a statement straight out of the mind/body fallacy or what? The brain is a bodily organ.  It controls the rest of the body, to a large extent, but that doesn't mean it's not part of the body. Just because we use it to think thoughts, doesn't mean we can control its processes or malfunctions. We like to think we are completely independent in producing thoughts, but our thoughts are strongly influenced, if not controlled, by our emotions, and emotions are produced by biochemical secretions. You can't think your way out of an illness. Or maybe you can, who knows, but I can't, I've tried!
On the other hand, our bodies influence our brains. We put chemical substances in – foods, nutritional supplements, medications, that help or hinder our recovery, relieve or trigger our migraines. We walk and exercise and that affects our moods and our thoughts.  And keeping a positive attitude, doing things to take care of ourselves, reaching out for support and helping others – all these things can influence our moods, and our health. They should be part of our migraine treatment plan. But they won't take away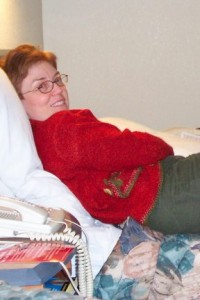 the underlying condition. I cannot think or emote or eat or exercise my way to a redesign of my neurons.
This kind of thinking is particularly damaging when it feeds into our own perfectionism and guilt about being ill. The next person who says that, you might say, "I can't think myself well, but you can think yourself tolerant!"  After all, their prejudices against migraine are all in their heads!
- Megan
Laying low with a headache – keeping migraine at bay
brain photo courtesy of Gaetan Lee
Tags: blaming the victim, Migraine brain, Migraine pain, psychosomatic illness, tolerance
Posted in Rant | Comments (6)