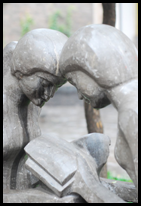 What's the hardest part of managing life with Migraine disease? Most of us would answer, the pain. But in order to manage and reduce the pain that steals hours and days from our lives, there are a lot of other things to manage. We must:
Find good medical care, be informed medical consumers and advocates for ourselves with our health care providers

Learn everything we can about Migraine disease, and about our own particular bodies and nervous systems, our triggers and patterns

Make lifestyle changes, from trigger avoidance, from our sleep patterns, to our eating habits, from learning to reduce and manage stress, relax and desensitize our nervous systems, to finding ways to exercise without getting triggered

Make sure the people in our lives understand so we get the support we need, at work, at home, and also find someone to talk to who can support us

Set up habits and routines and toolkits to be prepared for the Migraines that will come, to treat them and to make sure life can continue around us while we need to be down.
How do you manage all that? It can be quite a challenge. Many Migraine specialists report that even when they find a good treatment regimen for a particular patient, the most difficult part is them making and maintaining the lifestyle changes they need to get better, and finding the ongoing support that they need between doctor's appointments.
Migraine Management Coaching is working one to one with an experienced professional coach to manage the many aspects of your life, lifestyle, treatment and care which impact your Migraines and your quality of life. It takes persistence to make and maintain the lifestyle changes you may need to get better. I can help you create and implement the plans, systems and structures you need to have fewer Migraines and a healthier life.
We work to strengthen you in the areas of knowledge, getting the medical and treatment support you need, healthy lifestyle changes, trigger awareness and avoidance, acceptance, self-care and comfort, building your support system, and building your relaxation response; and we develop an individualized Migraine Management Plan to help you manage your Migraines on an ongoing basis.
Coaching Options
1. Migraine Management Plan: Working with your doctor's recommendation's, we create a plan to manage your Migraines on an ongoing basis, helping you set up the structures and routines you need to get better. We meet by phone for 2 – 3 45 minute sessions, billed at $60 per session.
2. Telephone Coaching Package:
Three 45 minute or Two 1 hour one-on-one telephone coaching sessions per month

Migraine Management Plan

Daily email contact and reminders

Participation in all BREESE relaxation teleclasses

$250 per one month period
3. Email Coaching Package: We can work on a Migraine Management Plan for you, answer your questions and do research, or provide coaching in a series of regular email exchanges if time zones or distance make telephone sessions difficult.
$200 for a one month period, with a 3 times a month structured coaching exchange.

Other email options are available for shorter term question and answer emails - prices vary based on the amount of email contact desired.

Contact Megan to arrange an initial complementary coaching session.
Migraine Management Plan

Monthly:
Telephone Coaching Package

Email Coaching Package