June 1st, 2009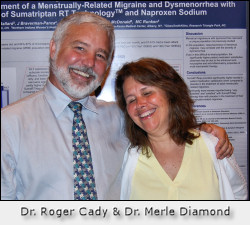 We had a very exciting teleconference yesterday with Dr. Roger Cady of the Headache Care Center of Springfield, Missori.  I think everyone who was on the call will attest to what a warm and caring soul Dr. Cady is and how he puts everyone at ease. It was an upbeat call and I think everyone on the conference came away with some practical ideas they can put into use.
We discussed the extra sensitivity of a Migrainous nervous system and how to care for that nervous system – not as something wrong or diseased, but as a process of acceptance of who we are, of the unique person we are.  When we are blessed with that extra level of sensitivity, we are sensitive to emotional cues and issues as well.  Anxiety and depression are described as "co-morbid" with Migraine because they occur together but the causal relationship is not understood at this time. The connection is probably in serotonin which is implicated in Migraine and in anxiety and depression.
If you'd like to listen to the audio of the teleconference and you are already registered for the Managing Life with Migraine teleconferences, sit tight.  We will have the audio file posted within the week and will email you the link. If you aren't yet registered, please go to Managing Life with Migraine and get on the list! This will give you access to all the teleconference recordings as well as a spot on future teleconferences.  Next month's call on Sunday, June 28th will be with Dr. William Young of the Jefferson Headache Center.
- Megan Oltman
Photo of Dr. Cady and Dr. Diamond copyright Teri Robert, used by permission.
Tags: emotional health, Migraine care, Migraine treatment
Posted in Managing, Medicine | Comments (1)