October 13th, 2009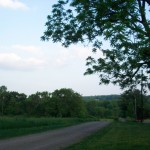 I need to write to my recent, former Migraine specialist to tell him I won't be coming back, and I'm having a hard time getting to it. I tend to dread upsetting or disappointing people, unless I am furious at them. I have nothing to be furious about with my recent doctor. I like him. He is a kind and caring man and a good doctor, and head and shoulders above the guy I saw before him who basically wouldn't even treat me because I have medication allergies. I just was not thrilled with a number of things – how incredibly cautious he is, how very very long he wanted me to wait before changing dosages or trying new things.
He had something to say at most visits about the possible long term effects of using Migraine abortives.  I felt it was all very well and good to say maybe I shouldn't use triptans in my 70′s, what about my unmanaged Migraines now? It was fine to say maybe I should come off a preventive after a year to see how I'd do without it, but why talk about that when we hadn't even found an effective preventive for me yet? And I must admit the dread phrase "they're just headaches" did pass his lips on one occasion. He seemed to think that going from around 8 – 10 Migraines a month to around 7 Migraines a month was good progress, but without really considering what the impact of those 7 Migraines is in my life.
Last month I saw Dr. Bill Young at Jefferson Headache Center, and I am thrilled to be in his care. The whole experience was what I think a Migraine appointment should be. The appointment includes an evaluation with a psychiatrist for any co-morbid emotional/psychological conditions that may be occurring. I have long wanted to have something to treat my anxiety, and my former headache doctor wanted me to go to a psychiatrist for that. I wanted to be working with someone within a headache practice, who could coordinate with my headache specialist, and perhaps find a medication that helped both conditions. That's exactly what the doctors at Jefferson did, and I am now trying nortriptyline as a Migraine preventive which is also serving to make me less anxious than I have been in many years.
It didn't hurt, I'm sure, that I already know and like Dr. Young. But there was much more to it than that. His level of understanding of the impact of Migraine disease, and way of asking questions to get that out, is truly skillful. I didn't feel for one moment like I have to settle for lackluster progress just because I'm not as badly off as some.
I once wrote to a doctor who I felt had treated me really terribly, and laid out exactly why I wasn't coming back. This is not a situation like that. I was treated well, not badly, by my recent doctor; I was treated with respect and caring. I just didn't feel it was the best care for me, and I felt he could have gone further to understand the level of impact in my life, and to treat my Migraines more aggressively. I am glad he is where he is and if I need to go to an ER I will want to use his hospital. I guess there's some valuable feedback I could give him, and it feels more than a little nervy to give it. I'm having a hard time being nervy.
Tags: medical care, migraine specialist, self-advocacy
Posted in Communicating, Medicine | Comments (5)