Posts Tagged 'vacation'
July 24th, 2008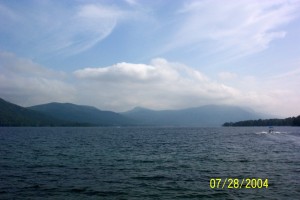 This is where I am now as I write you.  A beautiful lake in the mountains, where I come every year with a group of friends and extended family, and hike, swim, kayak, and rock on rocking chairs on a  big porch overlooking the lake.  So why am I writing now?  For one thing, it's been pouring much of the week!  For another, I spent yesterday in my room with a migraine.  A friend posted this link to a Scientific American article on Migraine disease, and I wanted to share it.  She called herself a nerd for having a Scientific American subscription; I guess that makes me a real Migraine Geek for choosing this for my vacation reading!  But it's really fascinating!
Here's the link to the article, which explains and summarizes new research into how migraines actually start in the brain and central nervous system: Why Migraines Strike. It's a long article, but well worth reading
to better understand what is going on in our brains, and new possibilities for treatment. I think the most important point, made by the authors in the last paragraph, is that the evidence is overwhelming that this is a real, congenital disease, a significant difference in brain function. Wave this article in the face of those who still won't believe Migraine is a disease! A few points that really struck me:
There is strong evidence suggesting that the tendency to Migraine is genetic, but there are a number of different genes involved, and the same genes are not involved for every migraineur.

This may provide some explanation of the wide variety of symptoms experienced by different migraineurs and the variance in effectiveness of treatments from one person to another.
The differences between migraine with and without aura may be explained by a phenomenon called cortical spreading depression, an abnormal kind of neuronal activity, which moves across the brain like a storm, affecting visual centers in some, motor centers in others, and perhaps even explaining the irritability, sleepiness and brain-fog experienced by those without aura, as the brain centers involved come under the "storm."  Thus the pro-drome symptoms experienced by those of us without aura may be another kind of aura!
Triptan drugs, which constrict blood vessels (which is why they are contraindicated for many with heart conditions or high blood pressure), were created when the prevailing theory of the cause of Migraine was vascular.  Luckily, they also inhibit the neuronal activity which is the actual culprit!  However, the new understandings of Migraine as a neurological condition makes development of newer, more specific abortive drugs possible, and several are under development.
Read the article and let me know what you think.  A few of my non-migraineur friends and relations up here even found it interesting.  More fodder for helping others – and ourselves – understand!
See you!  I'll be heading out on the lake – as soon as it stops raining!
- Megan
Tags: cortical spreading depression, genetics, migraine aura, Migraine disease, Scientific American, vacation
Posted in Medicine, Science | Comments (2)
June 10th, 2008
Hello dear, readers, I've missed you.  Since I was scraped off the bathroom floor last week I have been sick in bed with the worst case of bronchitis I've seen in many a long year.  More about that later.  (Is that a threat or a promise?)  Today I'm sitting up to read blog carnivals!  There are tons of good reading!
Posted yesterday, June 9th, there's: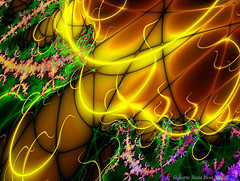 The June Migraine and Headache Blog Carnival.  At The Migraine Girl,
where host Janet Geddis treats us to a range of great posts on "How to have a Happy, Healthy Vacation" despite Migraine or headache disease.   Some are practical tips with checklists on being prepared; some are personal experiences of vacations that worked, and vacations that didn't.  There are also  a number of posts on controlling stress, triggers, and emphasizing relaxation, which will serve us well whether we're on vacation or not.   Janet has done a great job of cataloging and describing the posts, and I for one am looking forward to some great reading.
And posted today, June 10th, there's:
The June Living with Pain Blog Carnival. Hosted by Marijke Durning at Help My Hurt, the scope of the articles is wide, from practical and alternative treatment strategies, to communicating with doctors, discussing the world of health web sites, to meditation and spiritual stories.   Something for everyone who's living with pain.
Wishing you pain free days and nights,
- Megan
Carnival Lights image courtesy of Gilberto Santa Rosa
Tags: headaches, living with pain, migraine, vacation, Weblogs
Posted in Managing, Tips & Techniques, Weblogs | Comments (0)