Posts Tagged 'support group'
August 27th, 2009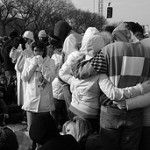 Next week I'll be launching something exciting here at Free my Brain. Since I started looking for help with my Migraines over five years ago, I've been looking for a support group, and hearing about the value of support groups.  Since I've been hosting the Managing Life with Migraine teleconferences on the last Sunday of every month, participants have been telling me how much they love being on the phone with other Migraineurs.  The doctors we've had on the teleconferences have spoken about the value of making progress with small manageable goals.  People email me all the time asking about a support group – okay – I hear you! I coach Migraineurs in managing the various aspects of their lives needed to see an improvement in their Migraine profile and quality of life.  I've also led coaching groups for years, and know how a group can help each other to move forward – so…
I will be leading a twice monthly Migraine Support and Coaching Group. A group of up to 12 Migraine and headache sufferers will be getting together by phone (on a secure conference line) twice a month, to exchange support, tips, ideas and encouragement, and receive coaching and training from me to improve your Migraine profile and overall well-being.  We will work with your doctor's recommendations, finding small manageable goals you can take on that will help you make progress.  Group members will also get access to daily e-mail coaching from me and two relaxation teleclasses per month, training you to calm you nervous system and make it less vulnerable to Migraine triggers.  You will form relationships with other group members, supporting  each other in taking the actions you need to take to move forward.
Meeting face to face is wonderful, and if you have the opportunity to do that, good for you. Most people I know who have run face to face support groups find that they are hard to sustain over time. For those of us with Migraine disease and headaches, it is key to simplify our lives and cut down on stressors. Having one more thing to get out to can be difficult. You can be in the Free my Brain Migraine Support and Coaching Group from the comfort of home, on the phone.
Frankly, I can't wait for this group experience.  Here's what you can expect: your fellow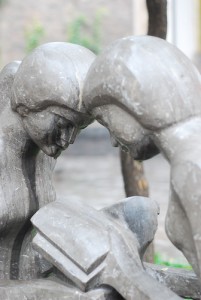 group members will also be pursuing goals in improving their health – and you will learn from them.  Group work on relaxation exercises and developing your ability to calm your nervous systems. The supportive structure of actions to take between sessions and a partner to talk to, to keep you in motion. Your coach and the other participants cheering your results and supporting you through the challenges. A place to vent and talk about your pain and challenges with others who support you and really understand, and keep focusing you on moving forward. Come by the Migraine Support and Coaching Group page to register or learn more, or contact me with your questions. I hope you'll join me!
- Megan
Tags: managing life with migraine, Migraine management, migraine management coaching, migraine support, support group
Posted in Communicating, Managing | Comments (0)
August 18th, 2009
Well, I wish I was literally swimming, rather than figuratively trying not to drown. I was just noticing how few posts there have been here, and that's not like me. The good news is I'm managing not to have too many Migraines. I may be headed for one tonight – we'll see. there's a ferocious thunderstorm out right now. And the good news is I got away to my lovely cousins' lovely beach-house on the LI Sound for the weekend, and didn't bring much work with me.
I won't try to hide that things have been tough. Although I am keeping busy writing and Migraine coaching and mediating and part-time lawyering, getting a daughter ready to start college in 3 weeks and a son to start high school at the same time, it's a lot to juggle, and still get the rest I need and take care of myself the way I should to manage my Migraines. My husband has some free-lance work but needs a full-time job. Money is tight and I am a worrier. I just want to say hi. The worst thing is to go out of communication, and not let anyone know how you are. How I am is busy and worrying too much.
What's my great coachly advice for you today? I'm working hard to take the coaching
myself. Going out for a walk in the morning when I'd rather sleep in a little longer, because I know I need the endorphins from the exercise in my system, to help keep pain manageable. Because I know then I'll drink less coffee and rest better, which will make me less triggerable. Because I know the exercise is good for keeping my anxiety levels down, and while I walk I do relaxation exercises that help me keep my nervous system less triggerable.
We do have some exciting new stuff coming at Free my Brain. We'll be starting a Migraine Support and Coaching group on September 2nd. We'll meet by telephone twice a month to work together on goals in managing our Migraines and improving our health. Get support from other Migraineurs and individualized coaching from me, at a fraction of the cost of one to one coaching. Look for the sign-up on the Home page, coming soon.
Right now we have a special for newsletter subscribers, where you can get 40% off of BREESE Relaxation Recordings. Check your email for the coupon code. If you're not a current subscriber you can subscribe in the 6 Migraine Keys box in the upper right corner of the blog page, and you'll find the coupon code on the Thank You page.
And though I haven't gotten over here to write very much, I have been writing articles on Law, Migraines, Disability and Work for Health Central's My Migraine Connection. Feel free to check them out – I wrote most recently about Work & Disability: Don't Fall Through the Cracks.
I hope you're keeping your heads above water too. Expect more from me soon. Let me know how you're doing, in the meantime! Say hi, let's keep up the communication. Okay?
- Megan
Swimming image courtesy of David Joyce; rain shower image courtesy of AlmazUK.
Tags: endorphins, exercise, managing life with migraine, relaxation techniques, support group
Posted in Communicating, Managing | Comments (3)