Posts Tagged 'migraine treatment plan'
May 8th, 2009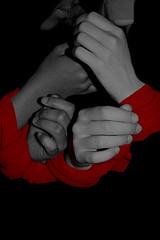 If there's anything that makes me want to throw up my hands and give up, it's how complex Migraine disease is. Migraine disease has multiple triggers, can take multiple forms with different symptoms and effects on our lives, and has multiple treatment possibilities. I could not manage all of this without support. It's lonely dealing with a disease that eats away days and weeks of our lives, and isolates us where the sound and the light won't bother us. Treating Migraine takes managing multiple aspects of our lives and health – that takes support. The people who support me remind me that every day will not be so bad, that life is still worth living, that there is hope. The things that support me give a structure to my life that I can count on when I am not functioning at my best.
We need to cultivate our support systems – building them up when we feel well so they will be there when we need them. We need to do what we can for the people who support us, when we can. In other words, we need to build our stock of resources.
What kinds of support are there? Consider these:
Professional support – this includes:

Doctors – you need a good medical doctor to track and coordinate your care and help you find appropriate medication.
Complementary practitioners – chiropractors, massage therapists, acupuncturists, bio-feedback practitioners, and nutritionists, among others, can help you relax, rechannel your energy, maintain your general health, manage and reduce pain.
Therapists – migraine is not a psychological disorder! But supportive therapy can help us deal with the emotions our illness causes.
Coaches – a coach can help you create a plan to manage your life with Migraine and help you generate the energy and enthusiasm to move ahead with your plan. That's what I do – contact me to hear more about it. Both coaches and therapists can be a great help in picking you up when you are down.

Personal Support:

Friends, family members, neighbors, even bosses or co-workers. You will need to make sure that they have some basic information about Migraine and that they know you have a disease. You'll need to be clear about what kind of support or help you need from them.
Another great form of personal support comes from other migraineurs, whether you join an online community or group such as my personal favorite, the forum at My Migraine Connection; chat with other Migraineurs on Twitter; join or start a face to face Migraine support group; or get on the phone with other Migraineurs in a relaxation teleclass; or join one of our Managing Life with Migraine teleconferences.

Medication support – you need medication choices to support you in preventing migraines and stopping them when they occur.
Tool-kit support – Whatever you use to comfort yourself when you do get a migraine – comfy pillows or blankets, ice packs, hot baths, cups of tea, essential oils, soft music, soft lights, whatever you use to help you to feel better.
Structure & routine support – this is what you do regularly to make the most of your well time and stay as well as you can. It will include your medications and nutrition, your exercise routine, relaxation routine, sleep routine.
Where is support missing in your life? Sometimes making a list of the pieces that are missing and taking just one step at a time can make a big difference. Like finding one person to talk to, or scheduling one doctor's appointment.  Giving a teleclass a try, or stocking up on comfort supplies.
What can you do to build your support system?
- Megan
Hands together image courtesy of Maria Angelie.
Tags: managing life with migraine, migraine support, Migraine treatment, migraine treatment plan
Posted in Managing, Medicine, Tips & Techniques | Comments (4)
February 6th, 2008
A week or two ago I posted about living healthy – a few comments there got me thinking (again) about just how challenging this is.  Getting it all right really does feel like a full-time job.  It's time-consuming-picky-detail-oriented, and doesn't fit with the way most "normal" people live their lives.  (By the way, I'm still interested in finding one of those "normal" people – if you spot one, let me know!)
This morning I am off to the doctor for a general health consult.  I have a lot of questions for him and wanted to go in when I wasn't feeling awful, for once, and would be more able to pay attention.  I'm
feeling okay today – not great but okay.  Okay is good, I can live with it.   So I have been preparing for the appointment: printing out the last 9 months of my "wellness calendar."  Here's what January looked like:  I color in days when I feel great as pink (when "I'm in the pink") – I only had one of those.  Days when I am sick but functioning are orange; when I am functioning about half-way are red; totally out for the count are brown.  I had a very red and orange January, luckily no brown days.
So then I printed out the narrative part for the last month, that shows how much I slept, what changes I made to my diet, details of my migraines and sinus infections.  I printed my checklists for caring for myself when I have a sinus infection or migraine, so the doctor can review them.   I wrote out my questions.  Here's what my desk looks like right now.  The yellow book in the pile is Breaking the Headache Cycle by Ian Livingstone, M.D.  I don't think messy desks are identified in there as a migraine trigger, but it still seems ironic!
I got up at 6:10 to get the kids' breakfast and get the younger one off on the bus (the older gets herself off on the bus – let's be clear about that).  I dealt with dishes and then went back to sleep for 45 minutes since I'd had only 6 1/2 hours of sleep which is a pretty reliable migraine trigger for me.  But when I got up again there was only time to prepare for the doctor and write to you here.  So I have not done my meditation/relaxation practice for the day or gotten my exercise, both of which are important to keep myself healthy and resistant to migraine triggers.  I'm going to have to fit them in this afternoon, when I will also be worrying about getting all my work done for the day.  Stress alert!
I so want to be perfect at my treatment plan and know perfectly (!) well I've never been perfect at much of anything.  It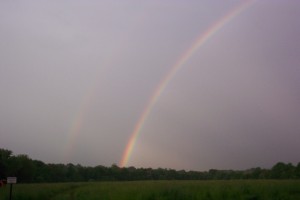 reminds me of one of those annoying parabolas (or was it a hyperbola?) from Trigonometry – approaching zero but never reaching it.  The ridiculous emotional see-saw of trying to do it all but without stressing about it.  Time for the Serenity Prayer again.  Time for the rainbow picture again – the perfect rainbow over the field outside my window – reminding me of the return of hope.  What would we do without it?
- Megan Oltman
Hurrying up without Being in a Hurry!
Tags: healthy living, Ian Livingstone MD, Migraine management, migraine treatment plan, relaxation, wellness calendar
Posted in Managing, Tips & Techniques | Comments (2)