Posts Tagged 'Migraine art'
January 28th, 2017
If you're like me, that's something you've asked for many times. My loving son Adam made me another head when he was in 9th grade – at the time when my chronic migraines were at their worst, just before I started working with Dr. William Young at the Jefferson Headache Center. Adam came home one day, and said, "I can't give you a migraine-free head, but I made a migraine head for you. Maybe all your migraines can go into this head instead of yours."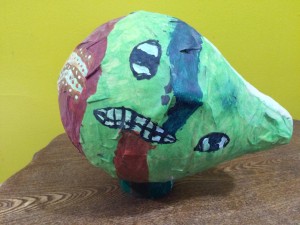 Here it is in all it's horrifying glory – I think he captured the pain and despair beautifully.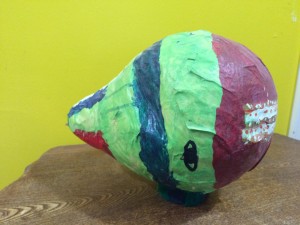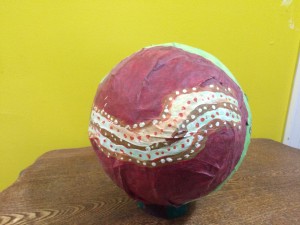 Seven years later, my migraines are no longer chronic. Sure, I had great treatment from one of the best, and learned new techniques to manage my migraines, and menopause came by and blessed me with fewer migraines as well, but maybe the head captured a lot of them on its own. The magic of love. The gift of a truly empathic artist!
Ciao Bene!
- Megan Oltman
Tags: Adam Oltman Porcher, Adam Porcher, Migraine art, Migraine management
Posted in Managing, Musings | Comments (0)
November 11th, 2008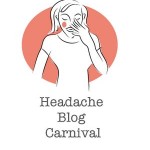 Go over to Pain in the Head for the November Headache and Migraine Disease Blog Carnival.  Generally speaking, a blog carnival is a
collection of links to a variety of a blogs on a central topic. The
Headache & Migraine Disease Blog Carnival has been created to
provide both headache patients and people who blog about headaches with
unique opportunities to share ideas on topics of particular interest
and importance to us.
This month there are a number of posts containing art, and others about the relationship between Migraines and art. Many of us find creating art, whether with words, images or other materials, helps to soothe our pain and release our feelings.  I want to give another plug here for Migraine Chick's new book of Migraine Haiku, which I mentioned a few weeks ago. Migraine Chick can make me laugh, and some of this haiku does that, with its biting cleverness. Some of the poems hurt too much to make me laugh, but they still provide the "aha!" of recognition and the satisfaction of meeting with another mind that really gets it. So check out the art in that book, and I hope also you go over to  Pain in the Head and read some of the artful posts you find there.
- Megan Oltman
Tags: blog carnival, Migraine art, Migraine Haiku, Weblogs
Posted in Books, Managing, Weblogs | Comments (0)