Posts Tagged 'managing life with migraine'
March 27th, 2009
If you've read my blog (and I know you've read it cover to cover, all 140+ posts, right? oh, well…) you may
know something of my story. I've been working from home since my daughter was six months old, almost 18 years ago, when I discovered that my legal job wouldn't allow me to return to work part time.  Three and a half years later my son was born and that's when my odyssey with chronic illness began.  I learned a lot about managing life, with a business, with children, and with chronic illness.  Eventually I put aside my legal practice and became trained as a professional coach.
After 7 years of coaching I had one of those aha moments where I realized I had a lot to offer, to help Migraine sufferers and other chronically ill people learn to manage their lives with their illnesses, to live the best, most purposeful and rewarding lives they can, to build businesses or stay employed if possible, to minimize the impact of their disease and maximize their joy. I helped a few face-to-face clients this way, but started exploring the internet as a way to get more help to more people, more affordably.  That's why I'm here.  That's why this blog, this site, the relaxation teleclasses and recordings, and some more products to help you coming soon…
In the course of starting this, of creating this thing called Migraine Management Coaching, I have gotten to know all these wonderful people who are committed to making a difference for people with Migraine and chronic illness. First and foremost, my dear friend Teri Robert who has taught so many people how to be an informed medical consumer and get the care you need. And so the idea of the Managing Life with Migraine free teleconferences was born.  We're starting in two days , on Sunday March 29th, and continuing on the last Sunday of each month, 4 PM eastern time, talking with a series of experts on topics that will help us manage our lives with Migraine!
Register now for our first call on Sunday, March 29th with Teri Robert – Writer, Author of Living Well with Migraine Disease and Headaches; Patient Advocate; Lead Expert, My Migraine Connection.
Topic: Taking Charge of Our Migraine Care – What Do We Need to Know and Do to Advocate for Ourselves and Be Informed Medical Consumers.
There is no charge for the call, but you need to register to get the call details!  You can Register Here.
- Megan Oltman
Tags: disease management, managing life with migraine
Posted in Advocacy, Managing | Comments (5)
February 5th, 2009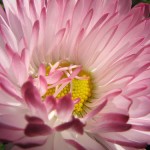 I have to thank Diana Lee for this topic, which I'm exploring for this month's Migraine Disease and Headache Blog Carnival, I'll excerpt the subject as: when sex can help with migraines – anything goes.  I'll just warn you that as Danny (my dear hubs) discovered when he went off to college, girls are just as disgusting as boys, in their own way.
Hideous head pain got you down? Tired of dizziness, not being able to see straight, or losing sensation in one side of your body, or spending hours kneeling in front of the toilet? There is a consolation: sex can help with Migraine pain!  Now it's true I'm being a bit sarcastic, and I guess that comes with the territory, because there's a chicken and the egg problem here – it's hard to feel sexy when you're in a lot of pain.
When I was in my early twenties and having menstrual cramps that left me in bed moaning for hours at a time, I heard that an orgasm would help with menstrual cramps. There were times in there where I had a willing boyfriend to help out, but I found that, though I'm not generally the squeamish type, it's hard to get into masturbation when the flow is heavy. Either it's just a god-awful mess, or you have to spread out a towel and wear rubber gloves, and really, how sexy is that? When I managed it, I will report that yes, an orgasm helped. For a while.
Well, likewise with a Migraine. It's a good theory. If the pain is severe, movement makes it worse. Though I will not turn up my nose at an orgasm most of the time, and would much prefer pleasure over pain, there is a level of pain I can't seem to get past. If nauseous, that's even worse. I defy you to show me someone who can really get in the mood when nauseous.
And there are other logistical issues. When I have a Migraine I tend to retreat to the quiet zone, my bedroom,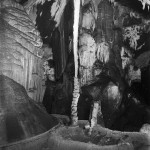 where I can control the noise, light, and stimulation levels. I also have teenagers. I could go into a whole separate post about how difficult it is to have a sex life when you have teenagers. When your children no longer go to bed before you do, life gets complicated. Maybe it's nature's way of getting you ready to push them out of the nest. "Leave home already, your father and I haven't had any nooky in….."
But imagine, if you will, the combination of these two elements. I am away in my quiet cave upstairs, I have a Migraine but not one so severe that I can't contemplate the deed, and I must somehow communicate to my spouse that I would like a little orgasmic intention directed my way. How do I do this without alerting the offspring, and how do we arrange the whole thing? Frankly my ingenuity level is not high during a Migraine either. I am most likely to hang the whole idea up and watch some Law & Order.
If we managed the logistics, would it help? We have managed it a few times, and I am happy to report that an orgasm, or three, is dandy for a Migraine. It may or may not make it go away, but it certainly helps for a while. Why not? Your body is flooded with feel-good chemicals and you are beyond relaxed. That's got to help.
When I take a triptan and lie down to try to sleep off a bad Migraine, as long as I don't have that mess situation going on, as mentioned above, I might give myself a little orgasm to help the process along. It doesn't require much vigorous movement, and it's not a bad tool to have in your Migraine toolkit.
- Megan
Tags: managing life with migraine, menstruation, migraine, Migraine attack, sex
Posted in Managing, Silliness | Comments (2)
January 4th, 2009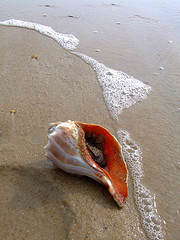 Happy New Year, one and all! I have been hearing much fervent relief at the passing of 2008 and perhaps more hope than usual at the launch of 2009. Between the economic woes of the past year, the death throes of the worst American presidency in recent history, and the ongoing struggles with pain and illness of so many of my compatriots, we are all very much ready for something new. And at this time of year, we express that desire and hope through resolutions.
As a coach, I've always done a lot of thinking and talking about resolutions. I have mixed feelings about them. One way of looking at a resolution is that it's a goal without an action plan. We tend to make a list of the things we know we should be doing, or that we greatly desire to do, that would improve our lives, our world, or the lives of those around us. For most of us, having made the resolution, we hope that good intentions and will-power will carry us through. Without actually taking the time to create a plan, to see what might be in the way of changing from our current actions or habits to the ones we want to develop, to anticipate hurdles and strategize a way around them, good intentions and will-power will get us where they usually get us. Maybe to February 1st. If we're lucky.
So resolutions are great if you craft them into goals, and goals are only worth more than the paper they're written on if they are big and inspiring but also grounded in reality, with strategies mapped out to get you from here to there. And that's what a coach helps you do, craft the goal, make the plan, and then stick to it!
The other difference between a resolution and a goal, is that the resolution is about action we can take, and the goal is about what we hope to accomplish by it. I'll express a goal right here:
In 2009, to see my Migraine frequency go down to under 3 per month.
This is a pretty audacious goal, from someone who had 6 – 9 Migraines per month in 2008. The other thing that's audacious about it is that I cannot control my Migraine frequency – directly. I can only influence it. So I need to resolve:
to practice relaxation at least 4 days per week
to keep up my health & Migraine diary daily, track and avoid my triggers
to exercise regularly – at least 3 times per week
to work with my Headache specialist on refining my treatment regimen
to keep looking at what else I can do to improve my health & well-being
Why am I listing all this out? Because these are the things I can actually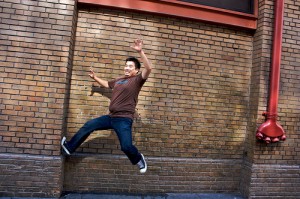 do something about! The goal itself, directly, I can do nothing about! If I only focus there, I just get discouraged, or I waste my time in fantasy.  It's the same for my business goals – I need to make more money, to keep paying the mortgage and send a kid to college next year. If I focus there, all I will do is panic. If I focus on the actions that I can take that will connect me to the right people, get me exposure, eventually bring me work, the goal may be obtainable.
So reach for the stars. Make big goals. Put them in front of you and don't forget them. But for your resolutions, keep your feet on the ground. Find small concrete steps that you know you can do. And make a plan to do them. If you need some help with that plan, email me from my contact page. Make it a great 2009 – let's see out the decade in style!
- Megan
Conch shell image courtesy of Joshua Davis, wall jump image courtesy of Alex Roberts.
Tags: chronic illness, goals, life coaching, managing life with migraine, migraine frequency, New Year's resolutions
Posted in Managing, Tips & Techniques | Comments (2)
December 1st, 2008
How was your Thanksgiving? We just got back from a very relaxed five day trip to my sister's house, where the extended family descends for an annual Thanksgiving extravaganza. There are a lot of reasons to love it. My sister and brother-in-law and nephews are warm and welcoming and they pull out all the stops to accommodate everyone. Danny and I bake pies and cook some side dishes and load them in the car with ourselves, our kids and our luggage, maybe some fruit and wine, and off we go. We don't have to clean the house (not that it couldn't use it). We get a mini-vacation from the worries of our daily life. Their house is set up so that even with a crowd, the upstairs rooms are pretty sound-proof, so if a Migraineur needs a quiet retreat, there is one.
I am very thankful at Thanksgiving time, for the loving and accepting, funny, intelligent and interesting family I have, the fun times and wonderful food we share. I have many blessings to count. I have never managed to travel to this particular fest, however, without at least a little pang of wishing it were different. I wish I could host an event like this at my house. I wish that I could host any event of more than a handful of people for more than a few hours, without getting a Migraine. I wish that my home was orderly, organized and clean to the point that preparing for overnight guests wasn't such a huge task.
The internet and the newspapers right now are full of articles on how to have happy holidays on a shoe-string, or how to enjoy the holidays without the stress, and I don't need to re-invent the wheel. Over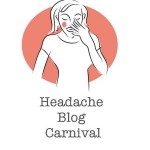 at My Migraine Connection you can read Teri Robert's interview with Marcia Cross on Holiday Parties with Migraines. Coming up on December 8, the December Headache & Migraine Blog Carnival will be posted at Somebody Heal Me on the topic of "Maximizing Your Enjoyment of the Holiday Season," and there will be lots of good reading on the topic, I'm sure! (If you'd like to submit a post for the carnival, the deadline is the midnight Friday, December 5th, and you can submit your post at this link at Somebody Heal Me.)
What I'm here to say is – the holidays don't have to hurt your head. Like me, you may find there are things you have to give up. I conceded Thanksgiving to my sister years ago, since she loves doing it so much, but for most of the past 6 years we have hosted a big holiday weekend at our house around New Year's. We won't be doing that this year. Having that many people in my house, and that much noise, for an extended period of time, is a whole series of Migraine triggers for me. I end up missing a chunk of the celebration, I'm not much of a hostess, my family feels bad for me, and I'm in pain that often lasts days after everyone leaves.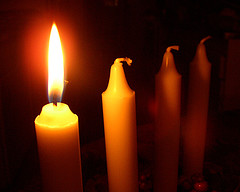 I was surprised to find myself in tears when I told everyone we would not be hosting this year. It's not like it was unexpected! The truth is that it is hard to give up on something we want to do. What we can do is to look below the thing itself, and see what is important to us, and how else we can express that.
When you look at your holiday season, think about what is important to you, and how you can express that without hurting your head. One holiday party may be much better than five. You may not have to wear yourself out to cook huge meals – choose one or two things that are important to you or your loved ones. The quantity of toys will mean less to your kids than the time you take to stop and play with them.
I gave up trying to be Martha Stewart years ago, but as my Migraines became more frequent I have had to give up more. So where we used to make six kinds of Christmas cookies, maybe we will make two. Where we used to have 18 people for a holiday weekend with a big dinner, we will ask a smaller group to join us for just dinner on Christmas day. Where we used to climb on the roof and hang lights, we light a few windows.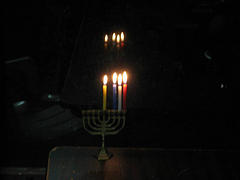 In our family we have always celebrated Hannukah and Christmas, since we have a mixed background, but several years ago we became clear that our kids didn't need gifts every night of Hannukah and under the tree and in their stockings!  We buy less, and light the candles to remember our heritage and hope in the darkness, rather than as a reason for eight more gifts.
Festivity is great fun, but it can also be addicting. Advertising tells us to do more, buy more. Many people find that however much they spend and do, they still fall short of the "perfect" holiday they imagine in their mind's eye. As Migraineurs, we need to go easy on ourselves. Whether or not you're hurting financially this season, you don't need the added stress of worrying about whether you have bought or done enough. A little can go a long way. What is most important to you about the holidays? Is it time with loved ones? An expression of peace and hope? Find ways to express what is important to you, that don't hurt your head. Remember to get regular sleep, eat regularly, avoid your Migraine triggers, and enjoy the joys of the season!
Peace!
- Megan
Sliced turkey image coutesy of Roland Tanglao; advent candles image courtesy of Per Ola Wiberg; menorah image courtesy of Andrew Ratto.
Tags: Christmas, Hannukah, holidays, managing life with migraine, Migraine triggers, Migraines, Stress, Thanksgiving
Posted in Managing, Musings, Tips & Techniques, Weblogs | Comments (3)
April 30th, 2008
Hello dear readers.  I've been a bit scarce lately due to 1) a very sick computer (it's having a relapse), and 2) a weekend training course which left me exhausted and migrainey.  I have complained at length elsewhere about sitting in a flourescent lighted interior room all weekend with noisy people and not enough sleep, so I won't go there… (Oops, looks like I did!)  Suffice it to say that managing life with Migraine disease includes handling interruptions, and the past week or so has been a string of interruptions!
But here I am to remind you about getting your weirdest Migraine trigger ever stories in.  Let's keep it simple – leave them in the comments to this post.  Since my computer access is still unreliable, I'm extending the deadline to Friday, May 2.  But if you've just been waiting to send them in today, go ahead, send them in!  I have gotten a few doozies – so go for it!  The contest will be judged by the fabulous Diana Lee of Somebody Heal Me and the splendid Kerrie Smyres of The Daily Headache.  Winners will be announced – hmm – sometime next week!  Stay tuned.
For some good reading in the meantime, please read the winning entries in the 2008 Putting Our Heads Together Migraine and Headache Poetry Contest at My Migraine Connection.  While you're at it – read the non-winning entries, too!
I hope you're enjoying a pain-free day.  It seems, for now, the little guys with grapefruit spoons have stopped trying to scrape my brain off my skull.  Phew!
- Megan
Tags: contest, managing life with migraine, Migraine trigger, poetry
Posted in Silliness, Weblogs | Comments (1)
April 13th, 2008
I wondered if I should cut my hair, and several of you said yes, including my Mom.  I'm old enough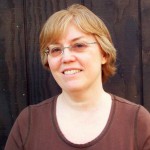 now not to resist Mom's advice – it's usually quite good!  Not to mention being mature enough to listen to the experience of my fellow migraineurs.  And so, I justify what may be just a vanity post by saying… short hair is a help in managing life with Migraine.  Less weight on the head, neck and shoulders.  Less fussing to do.  Less to worry about.  If only simplifying our lives was always this… simple.  Here's the new look.
- Megan
Tags: managing life with migraine
Posted in Managing | Comments (1)
March 1st, 2008
Fine, thank you, how do you? Oh, sorry, wrong tape…
How do you manage life with migraines? With many interruptions. With difficulty. Intermittently. With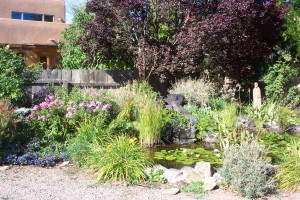 ridiculous persistence and hope. Occasionally, with grace.
But, how? You want the nitty-gritty? It's a lot like managing anything else. I've been coaching people for years in how to manage a small business, how to manage themselves to grow their business and have the life they want. You manage by having systems. By:
1) taking the great long overwhelming list of all the everything that goes into your enterprise and sorting it into categories,
2) listing out the individual tasks in each category,
3) creating the ongoing schedule of the tasks that need to be accomplished at regular intervals,
4) listing the one time, current tasks,
5) prioritizing those tasks and scheduling them,
6) listing any background preparation or materials needed before doing the tasks,
7) listing likely follow-up that will have to be done after the tasks, and

creating checklists.
No matter how difficult or overwhelming something seems, it can be managed if broken down into tasks, and if each of those tasks is further analyzed for preparation and follow-up tasks. This works for a business enterprise; it works just as well for enterprise YOU – the enterprise of your life.
But my head hurts! Yup. Mine too. That's why when I take to my bed with migraine, my computer or at
least a lined pad of paper goes with me. Unless I am too sick to have any light on, or think at all (and that certainly does happen), I lie down thinking, "what do I have to handle, make sure of, not forget, or reschedule?" And as soon as I've answered the question, I can give myself over to whatever I need to do to get better. It's like calling in sick for your life. If I am going to help my (actual) headache get better, I have to be able to let go of as many as possible of the figurative "headaches" called running a life.
I need to have all the medications I need close to hand. I need to make sure people will be fed, whether or not I'm doing the cooking (maybe I'm just asking someone else to handle it). I need to cancel appointments, or have someone else do it for me. I need to remember to call the doctor, or whoever else I really should be calling. If I can't stay in bed, if buying the groceries or getting the kids somewhere, or going to work simply cannot be avoided, I need a checklist for that too. That's the absolute minimum checklist. What's the absolute minimum list of tasks I cannot avoid doing?
When I'm having a migraine, my brain doesn't work too well. If the pain is bad enough, there's nothing to do but lie still and try to sleep. If it's not that bad, I still live in an extended state of "Ummmm…"  If all I need to do is take meds, I still need a list of them or I will forget.
So I try to invent all my checklists ahead of time. Healthy day checklists – including what I need to do daily to stay healthy. Sick day checklists. Preparation lists and schedules, to refill prescriptions, to keep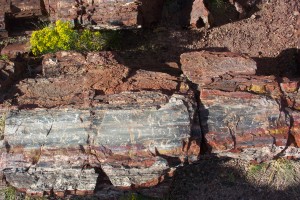 what I need on hand.
How do you take something as unpredictable and disruptive as a life with migraine disease and be systematic about it?  With many interruptions. With difficulty. Intermittently. With ridiculous persistence and hope. Occasionally, with grace.
- Megan Oltman
Today I've got a cold, or sinus infection, or migraine brewing, or some combination thereof.   Anybody's guess.  Taking it slow, checking my lists.  Such is (my) life.
Tags: managing life with migraine, time management
Posted in Managing, Tips & Techniques | Comments (5)
February 19th, 2008
My eyes are not open yet. The alarm is calling with its insistent "nature sounds." Supposed to be a spring breeze; it sounds like a blistering gale. I crack an eyelid, reach and press the snooze. Do I still have a migraine? Not sure yet but I know I don't want to wake up.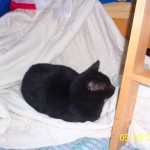 Danny rolls over. "Needa lilmor sleep," I mumble. Opening my mouth and enunciating would be a mistake. I catch the elusive tails of my dream – something about books and a cat. Drift into vagueness. Ten minutes passes like no time. More roaring wind. I reach to turn it off, eyes still closed. Danny gets up. I roll onto my back, checking. Crick in the neck. Roll the head gently on the neck. Body is okay. Little point of pain lodged over the left temple. Tiny. Like a bad little seed. "You should have taken the Imitrex last night," I chide myself. But I don't know. There is no absolute answer.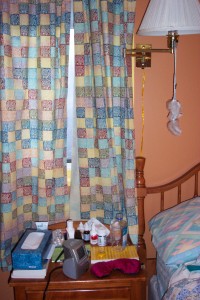 Sun is pouring in around the edges of the blinds. The covers are warm. My husband is cheerful. He is wishing me good morning. I am stretching gently, still unsure. If I move will the seed grow? I have slept enough, but should I be getting up? Should my responsibilities be pulling me into the day? Should my fear of the next migraine pull me back to bed? Where do good sense and balance lie?  I don't know the answer. But I know I want to get up, I want to get to my good work, I want to live my life. I stand and start my stretches. Pain seed
does not go away, but neither does it grow. Still dormant. I move into my day.
Will I have to reset the migraine ticker? What will I write in my migraine diary? Maybe the pain will leave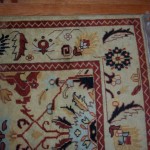 entirely. It may stay; it may or may not grow. I will get down on the floor and stretch. I will take all my supplements and medications. I will try very hard to eat right. I will meditate before work. I will plan my day and stick as best I can to my plan. I will take a walk, pray and let go of fear and anxiety. Ten minutes at a time, or an hour, or a day. Let me appreciate each moment without pain.
- Megan Oltman
"How are you feeling?" "Okay." "Just okay?" "Okay is not bad, I'll take it."
Tags: managing life with migraine, migraine, post-drome
Posted in Musings | Comments (2)
January 22nd, 2008
Here's the view down the lane from me this morning – I took a chilly walk with Kimi. Snow is coming in a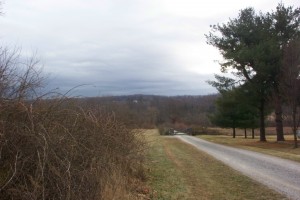 little while. I did all the things I should this morning, stretched, meditated, ate a light healthy breakfast, took my supplements and meds, stayed calm. Planned my day, did some work, took a walk.  A morning of living healthy.  (Go ahead, give me a gold star!)  I'll do that a few times and then I'll think I don't have to any more. Anyone else out there like me?
I've been thinking about what it takes to live healthy. Like everyone, I've been secretly hoping for the magic pill. Where do we get that fantasy from? Is it from fairy tales, a constant wish for the magic wand that banishes all ills, or the knight on the white horse to take us away, or is it pharmaceutical commercials (potential side-effects include loss of common sense, temporary irresponsibility…)?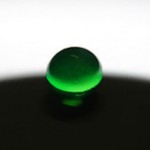 But wouldn't it be nice? Just give me the magic pill (once, mind you, I'm not interested in something I have to do every day, or refill prescriptions for, or pay co-pays ad nauseum…) and then I can live like everybody else.
Oh, like everybody else, huh? What does my fantasy mean by that? Hmm well I imagine everybody else can stay up as late as they want, as often as they want. They can eat sugar without getting hooked on it. They can drink coffee without revving their systems up so much they get migraines. They can live without exercise. They can drink alcohol. They can be around cigarette smoke. They stay calm cool and collected. They certainly never ever have to meditate, or breathe deep, or stretch. They don't have to go to the chiropractor every two weeks, they never need a nap, they have abundant energy all day, their houses are tidy and clean… How much of the human race have I eliminated by now? I guess there may be one or two paragons like this somewhere, but I know I haven't met many! Funny thing is, to live healthy with my conditions, mostly I have to do what common wisdom and the medical profession tells us we all need to be doing. The main difference seems to be: for those of us with chronic illness, the breakdown comes faster. We don't have to wait 30 years for the heart attack – we get the migraine attack right now!
Living healthy with migraine disease, and chronic fatigue, and a chronic sinus condition, seasonal allergies, allergies to pain meds, and irritable bowel syndrome, hypothyroidism, periodic anxiety and depression, looks like this for me:
1) regular and sufficient sleep
2) a diet high in fiber, organic foods, fruits and vegetables, and low in dairy, refined sugar and flour and food additives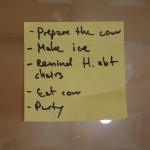 3) vitamins, minerals and nutritional supplements
4) thyroid supplements
5) natural, bio-identical hormone replacement therapy
6) antihistamines
7) a humidified house

flushing my sinuses with a neti pot a couple of times a week
9) triptans for migraine attacks
10) daily stretching
11) daily meditation and relaxation practice
12) journaling
13) keeping a detailed wellness diary
14) regular exercise – at least 5 times a week
15) chiropractic visits every other week
16) a life coach to help me stay on track
17) keeping in touch with my medical team about what's working, what's changing, what's next
18) keeping a regular work schedule and managing my time and projects to keep my anxiety level low
19) other stuff I can't think of at the moment…
If I do all this, I am less likely to get a migraine. I am less likely to catch every cold that comes down the pike and turn it into a sinus infection. I am unlikely to have an ibs flare-up and I don't fatigue easily and I feel serene… and then I think I'm cured. I think somewhere in all that was a magic pill and I can have a great big cup of coffee with a cheese danish and stay up half the night and work without breaks… until the migraine slams me down again.
Or even worse, I get sick anyway, even though I did everything right, or nearly everything right, and then I think, what's the use of working so hard to stay healthy?
So, here's my commitment: One day at a time, I will live healthy. I will do it for the rest of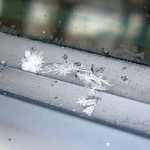 today. Tomorrow all bets are off… (just kidding!)
Oh, it just started snowing!
- Megan Oltman
Live well and prosper!
pill image courtesy of [O*] 'BharaT
checklist courtesy of Jon-Eric Melsaeter
snowflakes courtesy of Lin Pernille


Tags: managing life with migraine, one day at a time, relaxation practice, self care, vitamins
Posted in Managing, Tips & Techniques | Comments (2)
January 12th, 2008
Thanks to MJ for my topic today.  I've got the Carly Simon song "Anticipation" stuck in my head now, which is rough because I only remember half the tune and the lyrics.  But the final refrain says "Stay right here, 'cause these are the good old days, these are the good old days, these are the good old days…"  (Just you wait 'til  I figure out how to get an audio file in here and I'll have you humming it too.)
Yesterday I wrote about Fridays…  getting nostalgic about a time when I used to go out on Friday nights.   It's easy to get nostalgic when your head hurts – I can even get nostalgic for last Saturday, when I didn't have a migraine or a sinus infection!  How about Thursday?  That was a good old day!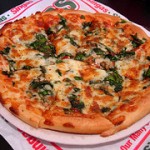 Truth is – I never went out every Friday.  Plenty of times of I was happy with a pizza and crappy tv.  PJs and slippers and a game of Scrabble.  We did eat out a lot on Fridays, because who wants to cook at the end of the work week?  But we lived in a big city, had disposable income, didn't have kids yet, that made it easy.   And sometimes Friday was dinner and dancing – a movie – time out with friends – it did happen!
My Frigraine Friday wasn't too bad.   Imitrex worked for awhile; I got some work done but didn't overdo it; Danny made an easy comforting supper; we watched "Blithe Spirit" – an old Rex Harrison flick – and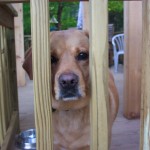 ate chocolate truffles.  The headache is still with me today, but mild.  (I refuse to call it a Saturgraine… that would be silly!)  I'm well enough today to write this.  This morning I made a dent in those Friday dishes.  I have plenty to be grateful for.  Look at this girl here – Kimi doesn't long for the good old days!  A good belly-scratch makes it the best day ever!
So what's yer point, Migraine-brain?  It's hard to keep perspective when your head hurts.  It's always dangerous to draw conclusions when you're down.  Am I glad to be where I am today?  I'd rather the house was cleaner, the funds were bigger, my dress size was smaller, my migraines were fewer, shorter, weaker…  Would I pay money to be 25 again?  I would not.
Here's to finding the joy in where you are, right now.  Wherever that is.
- Megan
Wickity-Whack but still ticking
pizza image courtesy of wEnDaLicious/wEnDy
Tags: anticipation, Carly Simon, imitrex, living in the moment, managing life with migraine, migraine, nostalgia
Posted in Managing, Music | Comments (0)