Posts Tagged 'managing life with migraine'
August 22nd, 2010
I am enjoying a long stretch of freedom from pain in the brain. Hooray! I have had only six Migraines since late June. Less than one a week! A better rate than I've achieved in the past three years, at least. I began taking the blood pressure medication Lisinopril in late June, and this seems like a winning combination for me. My current regimen includes:
Nortriptyline 50 mg at bedtime (a tri-cyclic antidepressant, taken at a very low dose for Migraine prevention, it has also helped my sleep and lowered my anxiety level);
Lisinopril 20 mg (10 at bedtime and 10 at breakfast);
High potency multi-vitamin;
Magnesium 400 mg;
B-Complex 100 mg;
B-2 300 mg;
CoQ10 300 mg;
Armour Thyroid 60 mg;
Iodoral iodine supplement;
DHEA 10 mg at bedtime;
Melatonin 3 mg at bedtime;
Omega-3 fish oil supplement;
Pro-greens pro-biotic supplement;
At least 84 ounces of water per day;
daily walks;
daily relaxation practice.
That's about 15 pills in the morning and 6 at bedtime. If that's the price of freedom, I can live with it. As always, an unintentional experiment proved how well this regimen is working for me. A few weeks ago I had a Migraine on a Thursday evening and, as I sometimes do, forgot to take my bedtime pills as I was treating the Migraine and everything else went out of my head. The next day we were leaving just after work for our cousins' beach house and I got up early in foggy post-drome and packed for the weekend before work. I forgot to pack my pills! So just as Danny was leaving the house to come meet me at my office, I called him and asked him to pack them for me. He did that, but when we met up and transferred the bags from the car he was driving to the other, the bag of pills got left behind. We discovered this at about 10 pm at the beach house. So I went without pills for a second night in a row, and missed my morning doses Saturday morning. Danny was a hero and drove over 6 hours round-trip to go get my pills so I could stay through Monday. Two nights and a morning without had a cumulative effect, though, and I had a pretty severe Migraine Sunday night.  It is now two weeks later, took my pills every day and no Migraines in that two weeks!
My Migraine specialist, Dr. Bill Young of Jefferson Headache Center, had said to me , "Six to seven Migraines a month isn't good enough. We can do better!" (Love this guy! Compare with the last guy who thought I should be satisfied with reducing from 10 a month to 7.) So when I went to my last appointment in late June with the news that my blood pressure had been running high, for the first time in my life, he was excited! I had to tease him about that, how many physicians would say, "Oh good!" on learning that their patient had developed high blood pressure! But he explained that anti-hypertensives can be excellent Migraine preventives, but can't be prescribed if the patient's blood pressure is too low. He was confident that the two medications together, along with all my other supplements, would produce better Migraine prevention results for me. And so far, so good! I try not to really measure a trend until it's been going on for several months, but early results look promising. I am loving the extra time and energy I have for hanging out with family and friends, and getting some chores and projects done around the house. Now if I could just manage the fibromyalgia…
For any of you who see doctors who only know a limited number of Migraine preventive options, or who aren't comfortable with combining several medications, or who aren't knowledgeable about supplements, find another doctor! If you aren't doing daily relaxation, meditation, yoga or another practice to calm your nervous system, get on it! It can take time, but most of us achieve a significant level of brain freedom.
Hope you're doing well. Leave me comment and let me know how you're getting on, okay?
Smoo cave waterfall photo courtesy of Subflux.
Tags: fibromyalgia, Jefferson Headache Center, managing life with migraine, migraine, Migraine preventive medication, William Young M.D.
Posted in Managing, Medicine, Uncategorized | Comments (0)
February 12th, 2010
What? It's 43 days into 2010!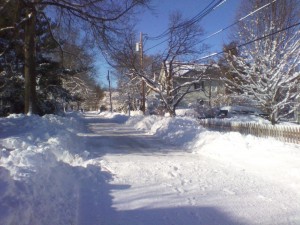 I know, but I haven't posted since January 7th; I feel like I need to catch up with you all. Greetings from snow-bound New Jersey!
I just saw that Medical Assistants.Net listed me as "One of the Top 50 Health and Wellness Blogs to Watch in 2010." If that's the case, I'd better get writing!
It's been a busy month and a half for me. I have returned to my professional roots and taken a half-time job as a lawyer. I love working with you all to help you manage your Migraines, but it's not keeping me busy full-time. I'm lucky to have a good set of skills to return to, and a great firm owner who knows me, likes my work, and is very flexible about my health needs.
I haven't missed a day for a Migraine yet, though I have to admit I've had a few let-down Migraines after busy days at work. I am adjusting to a new schedule. That takes some time for a Migraineur – our systems crave regularity, and tend to freak out when we change things up on them. It took a few weeks to build enough stamina to have energy left for the other things I do. I am very glad that my preventive medication works well for me, and that my years of practice in managing my Migraines have given me the breathing and relaxation skills to get me through.
When I left the practice of law in 2000 I thought I'd never be able to go back to the pace and demands without frequent Migraines. I'm happy to report that my Migraines haven't increased at all. Even better, I seem to have a reputation around the office as a calm person and a calming influence. That would have shocked those who knew me a few decades ago! Learning to manage Migraines, to keep my system on even keel, has left me knowing not to sweat the small stuff, and yes, most things are small stuff.
I owe all my subscribers a newsletter, and I am backed up with a couple of book reviews I want to give you. I have some stories about medication allergies for you and some great new products to link to. The Migraine Support & Coaching Group is going well, and I'd love to have more of you to talk to in the meetings! I think I've got my new rhythm down enough to be back and talk to you more often.
I hope your winter is going well. Let me know how you're doing!
- Megan
Tags: health and wellness blogs, let-down Migraine, managing life with migraine, Migraine preventive medication, migraine support group
Posted in Communicating, Managing, Weblogs | Comments (5)
September 26th, 2009
Diana Lee of Somebody Heal Me will be hosting the October 2009 Headache & Migraine Disease Blog Carnival on the theme "Alternative therapies – your experiences (good or bad), thoughts about trying them or any other take on the subject." To participate, send your link to a blog post on the topic, new or old, along to Diana, through the form on the carnival website or directly to her by e-mail.
Submissions are due by midnight (the end of the day) on Friday, October 9. This is a great opportunity to gather a number of posts around a topic of interest to many of us. About 6 weeks later Dr. Christina Peterson will be addressing the same topic on the November Managing Life with Migraine Teleconference, so between the two events we should gather a lot of great advice!
- Megan
Tags: alternative therapies, blog carnival, managing life with migraine
Posted in Managing, Medicine, Weblogs | Comments (0)
August 27th, 2009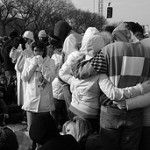 Next week I'll be launching something exciting here at Free my Brain. Since I started looking for help with my Migraines over five years ago, I've been looking for a support group, and hearing about the value of support groups.  Since I've been hosting the Managing Life with Migraine teleconferences on the last Sunday of every month, participants have been telling me how much they love being on the phone with other Migraineurs.  The doctors we've had on the teleconferences have spoken about the value of making progress with small manageable goals.  People email me all the time asking about a support group – okay – I hear you! I coach Migraineurs in managing the various aspects of their lives needed to see an improvement in their Migraine profile and quality of life.  I've also led coaching groups for years, and know how a group can help each other to move forward – so…
I will be leading a twice monthly Migraine Support and Coaching Group. A group of up to 12 Migraine and headache sufferers will be getting together by phone (on a secure conference line) twice a month, to exchange support, tips, ideas and encouragement, and receive coaching and training from me to improve your Migraine profile and overall well-being.  We will work with your doctor's recommendations, finding small manageable goals you can take on that will help you make progress.  Group members will also get access to daily e-mail coaching from me and two relaxation teleclasses per month, training you to calm you nervous system and make it less vulnerable to Migraine triggers.  You will form relationships with other group members, supporting  each other in taking the actions you need to take to move forward.
Meeting face to face is wonderful, and if you have the opportunity to do that, good for you. Most people I know who have run face to face support groups find that they are hard to sustain over time. For those of us with Migraine disease and headaches, it is key to simplify our lives and cut down on stressors. Having one more thing to get out to can be difficult. You can be in the Free my Brain Migraine Support and Coaching Group from the comfort of home, on the phone.
Frankly, I can't wait for this group experience.  Here's what you can expect: your fellow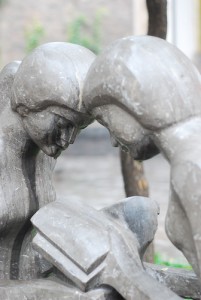 group members will also be pursuing goals in improving their health – and you will learn from them.  Group work on relaxation exercises and developing your ability to calm your nervous systems. The supportive structure of actions to take between sessions and a partner to talk to, to keep you in motion. Your coach and the other participants cheering your results and supporting you through the challenges. A place to vent and talk about your pain and challenges with others who support you and really understand, and keep focusing you on moving forward. Come by the Migraine Support and Coaching Group page to register or learn more, or contact me with your questions. I hope you'll join me!
- Megan
Tags: managing life with migraine, Migraine management, migraine management coaching, migraine support, support group
Posted in Communicating, Managing | Comments (0)
August 18th, 2009
Well, I wish I was literally swimming, rather than figuratively trying not to drown. I was just noticing how few posts there have been here, and that's not like me. The good news is I'm managing not to have too many Migraines. I may be headed for one tonight – we'll see. there's a ferocious thunderstorm out right now. And the good news is I got away to my lovely cousins' lovely beach-house on the LI Sound for the weekend, and didn't bring much work with me.
I won't try to hide that things have been tough. Although I am keeping busy writing and Migraine coaching and mediating and part-time lawyering, getting a daughter ready to start college in 3 weeks and a son to start high school at the same time, it's a lot to juggle, and still get the rest I need and take care of myself the way I should to manage my Migraines. My husband has some free-lance work but needs a full-time job. Money is tight and I am a worrier. I just want to say hi. The worst thing is to go out of communication, and not let anyone know how you are. How I am is busy and worrying too much.
What's my great coachly advice for you today? I'm working hard to take the coaching
myself. Going out for a walk in the morning when I'd rather sleep in a little longer, because I know I need the endorphins from the exercise in my system, to help keep pain manageable. Because I know then I'll drink less coffee and rest better, which will make me less triggerable. Because I know the exercise is good for keeping my anxiety levels down, and while I walk I do relaxation exercises that help me keep my nervous system less triggerable.
We do have some exciting new stuff coming at Free my Brain. We'll be starting a Migraine Support and Coaching group on September 2nd. We'll meet by telephone twice a month to work together on goals in managing our Migraines and improving our health. Get support from other Migraineurs and individualized coaching from me, at a fraction of the cost of one to one coaching. Look for the sign-up on the Home page, coming soon.
Right now we have a special for newsletter subscribers, where you can get 40% off of BREESE Relaxation Recordings. Check your email for the coupon code. If you're not a current subscriber you can subscribe in the 6 Migraine Keys box in the upper right corner of the blog page, and you'll find the coupon code on the Thank You page.
And though I haven't gotten over here to write very much, I have been writing articles on Law, Migraines, Disability and Work for Health Central's My Migraine Connection. Feel free to check them out – I wrote most recently about Work & Disability: Don't Fall Through the Cracks.
I hope you're keeping your heads above water too. Expect more from me soon. Let me know how you're doing, in the meantime! Say hi, let's keep up the communication. Okay?
- Megan
Swimming image courtesy of David Joyce; rain shower image courtesy of AlmazUK.
Tags: endorphins, exercise, managing life with migraine, relaxation techniques, support group
Posted in Communicating, Managing | Comments (3)
June 27th, 2009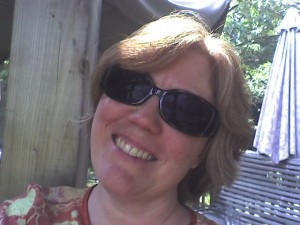 Hello dear readers, I've been quiet this week. It started with my daughter's high school graduation on Monday – where it has apparently become the fashion to cheer for one's graduates with air horns. Air horns aimed at the back of the head + bright hot sun & humid weather following many weeks of rain + more black storm clouds rolling in by the end of the ceremony + an emotional day = Migraine! By the way it really sounds like Migraine Puppet and I were at the same graduation, or perhaps are living the same life!
I have been blessed with plenty of work to do lately and in the current state of the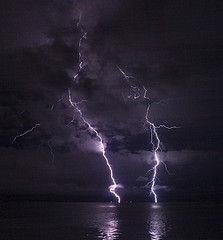 economy can't turn much of it away, so I haven't been able to devote much time out to Migraines this week. I've taken my medications and laid down but I've been back up working sooner than would be ideal, and with more storms, more rain, more graduation parties, more emotion (though thankfully no more air-horns!), teenagers' cars breaking down by the side of the road… it's been quite the Migrainey week. We're also getting ready for a graduation party of our own next weekend, deep cleaning the house, stirring up lots of dust!
Tomorrow I'm looking forward to taking some time out to talk to Dr. Bill Young about preventing and treating daily headache and intractable Migraine. (Do you think he'll tell me to slow down?) If you're registered for the Managing Life with Migraine teleconference series, don't forget to call in at 4 pm Eastern time. If you're not registered, there's still time, just follow the link and sign up, and you'll get the details to call in.
Hope to talk to you tomorrow!
- Megan
Tags: air-horns, graduation, managing life with migraine, storms
Posted in Communicating, Managing, Musings | Comments (0)
June 18th, 2009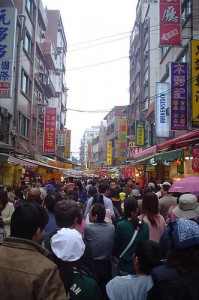 On last month's Managing Life with Migraines Teleconference with Dr. Roger Cady one of the things we discussed was living with the hyper-sensitive nervous system we have as Migraineurs.  Dr. Cady helped us recognize that in caring for ourselves and our emotional helath, we need to nurture the sensitive nervous systems we have.  This was a theme that resonated with many of us on the call, and I've had a few participants telling me they never knew that…
As a Migraineur, you might have a highly developed startle-reflex, and jump at every loud noise…
As a Migraineur, you might not be able to process multiple auditory inputs, but feel overwhelmed, panicky, and like you can't hear when there are many noises at the same time, or even several people talking to you at the same time…
As a Migraineur, your sense of "not liking" crowds is more than just a dislike, it's an inability to process too much sensory information at the same time – in other words, it's not psychological, it's neurological…
As a Migraineur, sensory overload is a very real thing, with very real consequences for you. If you're like me, you have been accused by co-workers, friends or family members at some point of being hyper-sensitive, neurotic, or just plain no fun because of your tendency to break down in the face of too much noise, light, or overall stimulation. Or you have accused yourself, and pushed yourself to continue in the face of too much, because you want to keep up with everyone else.
When you feel overloaded, that is part of your early warning system.  Heed the warnings.  Seek some quiet.  Take some deep breaths.  Use relaxation routines.  I have some very easy relaxation exercises you can use in the midst of everything to calm your system back down. Continuing the overload leads to our systems' form of short-circuit – a Migraine.
Are there things you've noticed about yourself, like startling at loud noises or panicking in crowds, that you can see are part of your Migrainous nervous system? Please share them!
- Megan
Crowded street image courtesy of Wm Jas.
Tags: managing life with migraine, relaxation techniques, sensitve nervous system, startle reflex
Posted in Managing | Comments (27)
June 10th, 2009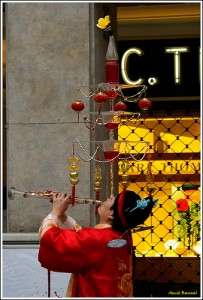 Some of you may know that for the past few months I have been writing articles on Health Central's My Migraine Connection on legal issues that relate to Migraine and chronic illness – doctor/patient confidentiality, protection of your Medical Records under HIPAA, Accommodations under the Americans with Disabilities Act, and look soon (in the next day or two) for an article on taking intermittent leave under the Family Medical Leave Act. You may know that in addition to coaching Migraineurs and others with chronic illness in how to manage life, get better, and live well with chronic illness, I am also a business coach, an attorney and a mediator, and I'm helping my husband develop several other web-based businesses for our family.
I try not to make too many recommendations that I haven't tried myself, and so if I am going to coach and advise people in how to perform the extreme juggling act that is life with chronic illness, I guess I'd better be quite the juggler myself. I didn't necessarily set out to do it on purpose – it worked out that way. When full time lawyering didn't fit with chronic fatigue and triggered too many Migraines, when business coaching dropped way off in the current economy, when Migraine management coaching was a great idea but needed some time to develop, I have tried to keep nimble and keep using all my skills, trying new things and renewing old ones, all while getting sufficient rest, managing my triggers, and practicing my intentional relaxation.
I really started out this post to point you to the writing I've done on legal topics lately, because I think as you are managing your life with Migraine, these are useful pieces of information for you to have. But I do think a lot about all the many pieces that make up my life, the balls I have up in the air, as I work to manage it all, and to help those of you who work with me to manage what you juggle as well. It's great to have something to work on. You don't need to have as many things to manage as I do – I'm probably an extreme case. But it is important for us to have a sense of purpose and to be making a contribution in life – even when we are ill. It may not be work for pay – but if that's possible, it's a good thing! I recently added a little part-time job to my mix that keeps me on my feet for several hours, several days a week. Despite some initial exhaustion, over all my stamina seems to be building.
I hope for you that you have something that can get you out of bed and give you a sense of purpose – at least some of the time. Let me know how your juggling act is going!
- Megan
Street juggler image courtesy of Amit Bansal.
Tags: disability rights, managing life with migraine, work-life balance, working
Posted in Advocacy, Managing, Musings | Comments (2)
May 8th, 2009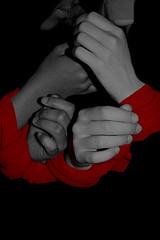 If there's anything that makes me want to throw up my hands and give up, it's how complex Migraine disease is. Migraine disease has multiple triggers, can take multiple forms with different symptoms and effects on our lives, and has multiple treatment possibilities. I could not manage all of this without support. It's lonely dealing with a disease that eats away days and weeks of our lives, and isolates us where the sound and the light won't bother us. Treating Migraine takes managing multiple aspects of our lives and health – that takes support. The people who support me remind me that every day will not be so bad, that life is still worth living, that there is hope. The things that support me give a structure to my life that I can count on when I am not functioning at my best.
We need to cultivate our support systems – building them up when we feel well so they will be there when we need them. We need to do what we can for the people who support us, when we can. In other words, we need to build our stock of resources.
What kinds of support are there? Consider these:
Professional support – this includes:

Doctors – you need a good medical doctor to track and coordinate your care and help you find appropriate medication.
Complementary practitioners – chiropractors, massage therapists, acupuncturists, bio-feedback practitioners, and nutritionists, among others, can help you relax, rechannel your energy, maintain your general health, manage and reduce pain.
Therapists – migraine is not a psychological disorder! But supportive therapy can help us deal with the emotions our illness causes.
Coaches – a coach can help you create a plan to manage your life with Migraine and help you generate the energy and enthusiasm to move ahead with your plan. That's what I do – contact me to hear more about it. Both coaches and therapists can be a great help in picking you up when you are down.

Personal Support:

Friends, family members, neighbors, even bosses or co-workers. You will need to make sure that they have some basic information about Migraine and that they know you have a disease. You'll need to be clear about what kind of support or help you need from them.
Another great form of personal support comes from other migraineurs, whether you join an online community or group such as my personal favorite, the forum at My Migraine Connection; chat with other Migraineurs on Twitter; join or start a face to face Migraine support group; or get on the phone with other Migraineurs in a relaxation teleclass; or join one of our Managing Life with Migraine teleconferences.

Medication support – you need medication choices to support you in preventing migraines and stopping them when they occur.
Tool-kit support – Whatever you use to comfort yourself when you do get a migraine – comfy pillows or blankets, ice packs, hot baths, cups of tea, essential oils, soft music, soft lights, whatever you use to help you to feel better.
Structure & routine support – this is what you do regularly to make the most of your well time and stay as well as you can. It will include your medications and nutrition, your exercise routine, relaxation routine, sleep routine.
Where is support missing in your life? Sometimes making a list of the pieces that are missing and taking just one step at a time can make a big difference. Like finding one person to talk to, or scheduling one doctor's appointment.  Giving a teleclass a try, or stocking up on comfort supplies.
What can you do to build your support system?
- Megan
Hands together image courtesy of Maria Angelie.
Tags: managing life with migraine, migraine support, Migraine treatment, migraine treatment plan
Posted in Managing, Medicine, Tips & Techniques | Comments (4)
April 22nd, 2009
Coming up this Sunday, April 26th, at 4 pm Eastern time, I will be hosting the second of our monthly

Managing Life with Migraine Teleconferences with Michael John Coleman, Co-Founder, President, and Executive Director of MAGNUM, the National Migraine Association.  The association was founded in 1994, and has been instrumental in many pieces of legislation that have made a difference to the lives of Migraineurs.  In their own words:
MAGNUM: Migraine Awareness Group: A National Understanding for Migraineurs, was created to bring public awareness utilizing the electronic, print and artistic mediums, to the fact that Migraine is a true biologic neurological disease, to assist Migraine sufferers, their families, and coworkers, and to help improve the quality of life of Migraine sufferers worldwide.
Michael John Coleman is one of MAGNUM's Co-Founders, an award-winning photographer (though we can't show you photos on the teleconference), and has been involved in many significant battles for Migraineurs in the past 15 years.  We'd love to have you join us on the teleconference.  The call is free but you must register to be on the call.  Go to Managing Life with Migraine Teleconferences to register.  If you already registered for last month's teleconference there's no need to register again.
- Megan Oltman
Tags: MAGNUM, managing life with migraine, migraine advocacy
Posted in Advocacy, Managing | Comments (4)