Posts Tagged 'health care reform'
December 9th, 2009

The AHDA (Alliance for Headache Disorders Advocacy) makes us aware of an opportunity to make a difference in the future of headache medicine. Please take action today to support the the Klobuchar / Collins Amendment to the Senate Health Care Reform Bill. Apparently the bill sets up bonus Medicare payments to doctors from certain primary care specialties. This will give an incentive and encourage doctors to enter and stay in primary care practice.
The AHDA tells us:
Physicians who specialize in headache medicine provide primary or principal care for patients with headache disorders and more than 90% of them are neurologists. Unfortunately, neurologists have been unaccountably left out of eligibility for these bonuses. If the Health Reform Bill passes with the incentive program as it is written, it will significantly undermine the ability to recruit and retain doctors to the field of headache medicine. Headache doctors are already very scarce, and it will become that much harder to find one.
Senators Klobuchar of Minnesota, Collins of Maine and Brown of Ohio, created a bipartisan amendment to the bill that would add neurologists to the Medicare incentive program. The AHDA is backing the amendment along with other groups that support sufferers from neurological diseases, including the American Academy of Neurology, the ALS Association, the Parkinson's Action Network, the Epilepsy Foundation, the Brain Injury Association of America, the Alzheimer's Foundation of America, and the National Multiple Sclerosis Society.
In five minutes or less, you can add your voice to support for the Klobuchar / Collins Amendment and help encourage doctors to go into and stay in headache medicine. Just go to the AHDA's special dedicated page: Email Your Senators to Support the Klobuchar/Collins Amendment. They've designed it to be really easy – please just take a few minutes and do it now! That is all.
- Megan
Tags: Alliance for Headache Disorders Advocacy, headache disorders, headache specialists, health care reform
Posted in Advocacy, Current Affairs, Medicine | Comments (0)
September 23rd, 2009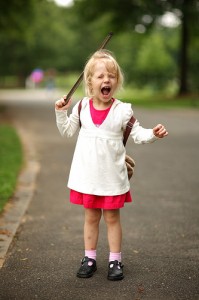 I went to a business lunch & learn presentation today, given by a very nice insurance agent, all about health insurance. He covered the history of health insurance, how we got in the mess we're in today, and some ideas about how to fix it. His intention was to give business owners an idea of some options and choices that exist now. Well, we didn't really get far into that last part, as so much of the time was taken up with people's impassioned views on the subject of our health care system. Not surprising in the USA today.
A lot of views were expressed about how people overuse medical care, and doctors over-test and over-prescribe in order to cover their butts against potential liability, how we expect higher standards of care than in the past, how we take too many prescription drugs and don't emphasize prevention enough. I can get with most of that, as far as it goes. I think health education and healthy lifestyle choices could be much more emphasized. I think the practice of defensive medicine is a real problem. But I don't think the answer is to turn back the clock and say if you injure your knee you should just live with the limitations for the rest of your life, rather than having rehabilitation available. I don't think having real effective treatments for conditions that were taken for granted throughout human history is a bad thing. People don't have to suffer like they did – throughout human history.
It was more than I could do in the short time we were together to really make the case for chronic illness, though I tried. We all need to be responsible for ourselves, and take care of ourselves, and looking to a doctor or a pill to solve everything is not the answer. But many of us do not have the option to go without medical care – we cannot function without it. And the advances in medicine that may be seen as excessive or unnecessary by some are not happening fast enough for us, to help us function.
Many of us with chronic illnesses are living the healthiest lifestyles imaginable. We've cut out the unhealthy things that others just think they should cut out. We don't have a choice because these things make us sick now. One guy said he thought it was crazy that healthy people and sick people should pay the same insurance premiums. This shows the problem with a traditional, for profit insurance risk model – but how can any rational person say that you have to be extremely wealthy to be a sick person? Should I pay twice (or five times) as much for my insurance as you? In other words if I get sick, if I have a genetic predisposition to disease, have an accident, or am just unlucky, I should go broke and end up an the street in order to pay for my care? Or maybe I should just die? A pure for-profit insurance model like this guy was championing, that's the real death panel.  (Choosing who should live or die based on ability to pay. We have that in this country right now!)
I'm responding to things that I couldn't respond to at the time without completely diverting the conversation. Unlike some wingnuts in town hall meetings around this country, I'm polite enough not to shout people down. Most of the time.
But what really got me was when we started talking about the Canadian model – interestingly, our presenter was a Canadian, living in the US for the last 15 years. He debunked the myth that people wait years for needed surgery in Canada. The same guy whose views I took issue with above said that in Canada the health care is free but the beer is really expensive. He said, "I'd rather have a cheap six-pack than a heart transplant." Now listen, he was trying to be funny, but come on. Ask anyone on the street if they'd rather have a beer or a heart transplant, and chances are only those who need heart transplants are going to opt for the second choice. Even if you don't like beer… The point is, that if you need a heart transplant, you should be able to have one without worrying about losing your life savings, or dying without the care you need. And yeah, go on and tax the unhealthy things to pay for the healthcare. Makes sense to me!
- Megan
Hit in the head image courtesy of Pawel Loj.
Tags: chronic illness, health care reform, health insurance
Posted in Advocacy, Current Affairs, Rant | Comments (4)