Posts Tagged 'headache disorders'
December 9th, 2009

The AHDA (Alliance for Headache Disorders Advocacy) makes us aware of an opportunity to make a difference in the future of headache medicine. Please take action today to support the the Klobuchar / Collins Amendment to the Senate Health Care Reform Bill. Apparently the bill sets up bonus Medicare payments to doctors from certain primary care specialties. This will give an incentive and encourage doctors to enter and stay in primary care practice.
The AHDA tells us:
Physicians who specialize in headache medicine provide primary or principal care for patients with headache disorders and more than 90% of them are neurologists. Unfortunately, neurologists have been unaccountably left out of eligibility for these bonuses. If the Health Reform Bill passes with the incentive program as it is written, it will significantly undermine the ability to recruit and retain doctors to the field of headache medicine. Headache doctors are already very scarce, and it will become that much harder to find one.
Senators Klobuchar of Minnesota, Collins of Maine and Brown of Ohio, created a bipartisan amendment to the bill that would add neurologists to the Medicare incentive program. The AHDA is backing the amendment along with other groups that support sufferers from neurological diseases, including the American Academy of Neurology, the ALS Association, the Parkinson's Action Network, the Epilepsy Foundation, the Brain Injury Association of America, the Alzheimer's Foundation of America, and the National Multiple Sclerosis Society.
In five minutes or less, you can add your voice to support for the Klobuchar / Collins Amendment and help encourage doctors to go into and stay in headache medicine. Just go to the AHDA's special dedicated page: Email Your Senators to Support the Klobuchar/Collins Amendment. They've designed it to be really easy – please just take a few minutes and do it now! That is all.
- Megan
Tags: Alliance for Headache Disorders Advocacy, headache disorders, headache specialists, health care reform
Posted in Advocacy, Current Affairs, Medicine | Comments (0)
June 8th, 2009
It's a big week in the world of headache – first of all it's Migraine and Headache Blog Carnival time again,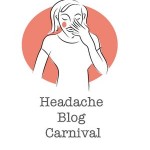 with this month's topic of "What people don't understand about migraines & about what it's like to live with them" posted over at Somebody Heal Me. Lots of great posts, both on and off topic. If you haven't checked out The Headache & Migraine Disease Blog Carnival before, it was been created to provide both headache patients and people who blog about headaches with opportunities to share ideas on topics of particular interest and importance to us.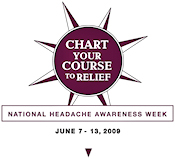 But even bigger news is that it's National Headache Awareness week, sponsored by the National Headache Foundation.  Educational events are going on throughout the country this week to raise awareness of Migraine and other headache disorders.  A great new tool on the National Headache Foundation web site is Headache U, an on-line resource where you can look up your experiences with headache, create a personal headache profile, and get matched with the right resources for you.
A great week for educating both ourselves and the other people in our lives about Migraine Disease and Headache Disorders!
- Megan
Tags: blog carnival, headache disorders, Migraine and Headache awareness, Migraine disease, National Headache Awareness Week
Posted in Advocacy, Communicating, Weblogs | Comments (1)
March 22nd, 2009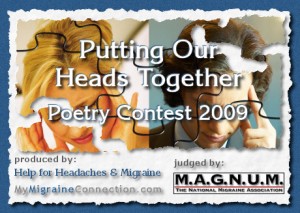 The ninth annual Migraine and Headache poetry contest is going on now at MyMigraineConnection.  Teri Robert, patient advocate and Migraine expert on MyMigraineConnection.com, has kicked off the "Putting Our Heads Together" Poetry Contest. The contest seeks poetry on how Migraine disease and/or headache disorders affects your lives. You can submit up to three poems, in any style, for the contest – the more creative, the better! To enter the "Putting Our Heads Together" poetry contest, visit: Poetry Contest.
As those of us who blog on Migraine can tell you, writing is a one of many creative outlets that can help you cope with this disease. Make art out of pain, and help others find fellowship and understanding. Don't worry if you think you're not a poet. Poetry is painting pictures with words – hold your brush lightly, don't think too hard, don't force it, let it flow. Rhyme, or don't rhyme, play with the rhythm and music of the language. I hope to see you in the contest!
- Megan
Tags: headache disorders, migraine, My Migraine Connection, poetry, Teri Robert
Posted in Communicating, Weblogs | Comments (0)
February 25th, 2009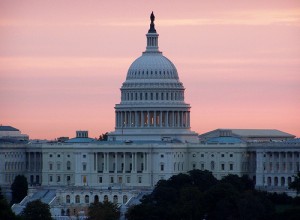 I spent the day yesterday doing something I've never done before – lobbying Congress.  I'm not entirely sure I would ever have predicted that I would lobby Congress.  It was a great experience, and one that I'm sure will take me several posts to process and tell you about.  But I can at least get started.  The Alliance for Headache Disorders Advocacy (ADHA) is a wonderful group of doctors, advocates, writers and researchers who are fighting for better headache care for YOU.  I arrived in DC on Monday for a training session put on by the AHDA and learned some key things about the underfunding of Migraine and headache disorders research, and about how to lobby.
Nearly 40 of us spent Tuesday on Capitol Hill speaking to legislators and legislative aides.  I visited two senators and three congressmen from my state, along with another Migraine sufferer.  We were requesting that they add language to the 2010 appropriations bill which will direct the National Institutes of Health (NIH) to spend a larger share of their funds on Migraine and Headache Disorder research.
Here are some of the things I learned, straight from the AHDA fact sheet which we shared with the legislative aides:
Headache Disorders are the most prevalent neurological disorders.  This year:
More than 25% of middle aged American women will have a Migraine attack.
25% of American families will have a member with a Migraine attack.
19% of all Iraq war veterans will have a Migraine attack.
12% of all Americans will have a Migraine attack.
4% of all Americans will have chronic daily headache.
US costs for headache disorders this year will be:
greater than $31 billion in total economic losses.
9% of all lost labor productivity.
greater than the costs due to epilepsy, asthma and ovarian cancer combined.
Migraine is extremely disabling, resulting in:
attacks that can be as disabling as quadriplegia or active psychosis.
more lost years of healthy life in the US than due to epilepsy, multiple sclerosis, and ovarian cancer combined.
an increased risk of cardiovascular disease leading to at least 1500 additional deaths in the US annually.
What has the response of the NIH been so far?  The NIH is responsible for funding, with our taxpayer dollars, the basic research that makes medical innovation possible.  So far the NIH funding for research on headache disorders is less than $13 million annually which comes to less than 0.05% of the NIH budget. Research of NIH funding relative to disease burdens (the impact of a disease on society, including prevalence, economics, disability, and mortality, as discussed above), shows that a fair share of funds for headache disorders (compared to other diseases with similar disease burdens) should be at least $103 million annually.
We got a good reception, particularly from our senators' aides.  There is more work to do, but I think we are making an impact.  You can make an impact too.  Go to the ADHA site and sign up for their action alerts.  On Monday, March 2 we will be asking you to email your congressional representatives, asking them to sign on to the language directing the NIH to do the right thing with regard to headache disorders.  If you sign up for AHDA action alerts today, taking action next week will be as easy as a couple of clicks.
- Megan
We can make a difference!
US Capitol image courtesy of Kim Baker.
Tags: AHDA, Alliance for Headache Disorders Advocacy, Chronic Daily Headache, disability, disease burden, headache disorders, migraine
Posted in Advocacy, Current Affairs, Medicine, Science, Uncategorized | Comments (9)
August 31st, 2008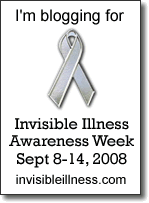 Coming soon – I will be doing a post on Migraine disease as an invisible illness for Invisible Illness Awareness Week, Sept 8-14, 2008.  Please visit the Invisible Illness Awareness Week Blog for lots of great posts on what it means to have an invisible illness – one that effects your life and abilities, that others cannot see.  I'll be posting on the topic on September 8, along with lots of other bloggers on that day.  If you'd like to join in, visit the blog link above.
What can we do about our invisible illness?  Nancy Bonk had the great idea of wearing a big bandaid across our foreheads – to make our disease visible.  I'm thinking maybe a baseball cap with a bandaid embroidered right across the front – "Migraine Disease and Headache Disorders – Invisible No More."   What do you think?  Would you wear one?
- Megan
Tags: chronic illness, headache disorders, invisible illness, Migraine disease
Posted in Advocacy, Weblogs | Comments (5)