Posts Tagged 'endorphins'
August 18th, 2009
Well, I wish I was literally swimming, rather than figuratively trying not to drown. I was just noticing how few posts there have been here, and that's not like me. The good news is I'm managing not to have too many Migraines. I may be headed for one tonight – we'll see. there's a ferocious thunderstorm out right now. And the good news is I got away to my lovely cousins' lovely beach-house on the LI Sound for the weekend, and didn't bring much work with me.
I won't try to hide that things have been tough. Although I am keeping busy writing and Migraine coaching and mediating and part-time lawyering, getting a daughter ready to start college in 3 weeks and a son to start high school at the same time, it's a lot to juggle, and still get the rest I need and take care of myself the way I should to manage my Migraines. My husband has some free-lance work but needs a full-time job. Money is tight and I am a worrier. I just want to say hi. The worst thing is to go out of communication, and not let anyone know how you are. How I am is busy and worrying too much.
What's my great coachly advice for you today? I'm working hard to take the coaching
myself. Going out for a walk in the morning when I'd rather sleep in a little longer, because I know I need the endorphins from the exercise in my system, to help keep pain manageable. Because I know then I'll drink less coffee and rest better, which will make me less triggerable. Because I know the exercise is good for keeping my anxiety levels down, and while I walk I do relaxation exercises that help me keep my nervous system less triggerable.
We do have some exciting new stuff coming at Free my Brain. We'll be starting a Migraine Support and Coaching group on September 2nd. We'll meet by telephone twice a month to work together on goals in managing our Migraines and improving our health. Get support from other Migraineurs and individualized coaching from me, at a fraction of the cost of one to one coaching. Look for the sign-up on the Home page, coming soon.
Right now we have a special for newsletter subscribers, where you can get 40% off of BREESE Relaxation Recordings. Check your email for the coupon code. If you're not a current subscriber you can subscribe in the 6 Migraine Keys box in the upper right corner of the blog page, and you'll find the coupon code on the Thank You page.
And though I haven't gotten over here to write very much, I have been writing articles on Law, Migraines, Disability and Work for Health Central's My Migraine Connection. Feel free to check them out – I wrote most recently about Work & Disability: Don't Fall Through the Cracks.
I hope you're keeping your heads above water too. Expect more from me soon. Let me know how you're doing, in the meantime! Say hi, let's keep up the communication. Okay?
- Megan
Swimming image courtesy of David Joyce; rain shower image courtesy of AlmazUK.
Tags: endorphins, exercise, managing life with migraine, relaxation techniques, support group
Posted in Communicating, Managing | Comments (3)
July 10th, 2008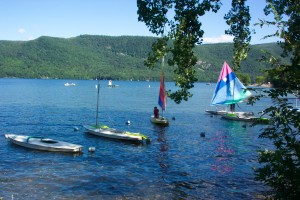 I promised to get you some more evidence to answer the question: Does exercise aid in Migraine prevention?  And in the interim, this news cropped up:  The Journal Headache recently published a review of eight studies and four case reports of exercise as migraine therapy.  Dr. Volker Busch of the University of Regensburg, Germany, reviewed the studies, and found that
"most studies did not find a significant reduction of headache attacks or duration due to regular exercise. Six of the studies demonstrated a reduction of pain intensity during the intervention."
Read full coverage at My Migraine Connection.  Please note, though, that the answer is not "No."  The answer Dr. Busch's review provides is that: 1) in the studies reviewed, there was not a significant reduction in number or duration of migraines; and 2) there is not yet sufficient evidence to state with certainty whether or not exercise helps.
Does this mean we give up on exercise?  No!  I gave you my little piece of anecdotal evidence a few weeks ago in the post Exercise for Migraine Prevention.  My update since that time?  I have exercised 27 of the last 30 days.  I have had 3 migraines in that time.  Contrast that with an average of 6.5 migraines per month for the last 7 months, with sporadic exercise.  It's not scientific evidence of anything, mind you.  All I can tell you is that exercise is making me feel good!
What does exercise do for us?
Exercise releases endorphins, which are our body's own pain-killers.
Exercise relaxes our muscles – it reduces muscular tension.
Exercise reduces our general fatigue and helps us sleep better.
Exercise tones our blood vessels and increases blood flow.
Exercise reduces anxiety levels and increases relaxation.
And then there's all that stuff about a healthy heart, a healthy weight, regulating our blood sugar, just the general things that keep us alive!
Read more on the benefits of exercise from migraine blogger James Cottrill at Relieve-Migraine-Headache.
It stands to reason, I believe, that exercise might reduce migraine frequency or severity.  I can't promise you, of course, that it will do that for you.  Migraine is, among other things, an outcome of a sensitive, highly reactive nervous system.  Whatever we can do that makes us stronger, healthier, more relaxed, more stress-hardy, ought to make our systems less reactive.
Most of us are also aware of the problem of exercise-generated migraines.  The key is to take it slow and gentle.  A couple of great articles on how to work in some exercise without setting off migraine are Teri Robert's 10 Ways for Migraineurs to Sneak in Some Exercise, and Ellen Schnakenburg's Moving and Exercising and Migraine.  Also remember to drink lots of water and avoid hot sun if it's a problem for you.
I don't have medical studies to back me up here!  But medicine is art as well as science, and I'll tell you that all my doctors are telling me I need to get regular exercise!  So don't let "it's not proven" mean "why bother?"
- Megan
Breezy, clear, sun getting lower – time for a walk!
What does that sailboat image have to do with it?  That was my daughter's first solo sail – she was getting some great exercise!
Tags: endorphins, exercise, migraine prevention, vascular health
Posted in Managing, Medicine, Tips & Techniques | Comments (7)