Posts Tagged 'Alliance for Headache Disorders Advocacy'
April 21st, 2012
Four weeks ago I was one of sixty some-odd Migraine and Headache patients, physicians, and advocates of many kinds to spend a day and a half in Washington DC, lobbying Congress for research funding and recognition of Headache disorders.It was the Alliance for Headache Disorders Advocacy (AHDA)'s fifth annual Headache on the Hill (HOH). I participated in the second HOH three years ago and it was really inspiring to see how the group has grown in the interim. At that time I was one of very few non-physicians and very few bloggers. This year there were any number of patients, bloggers, advocates of many kinds, representatives of Migraine.com and Health Central, and NuPathe. Here we all are in front of the Capitol (I'm the short one in the orange coat):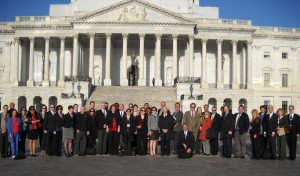 As we tried to spread the message about how incredibly prevalent, disabling and costly these conditions are, we heard a lot of stories. Given that almost 20% of Americans experience Migraine, we discovered any number of legislators and legislative staff who either had Migraine themselves or who could tell us about how disabled their aunt, cousin, friend or coworker is by the condition. There was also a large group of Cluster Headache patients who came down to advocate for headache research. I was moved and amazed by these people who experience what is considered to be the worst kind of pain a human being can experience. Many of them were in the midst of cluster attacks at the time. We found that the legislative staff we visited had never heard of Cluster Headache. The condition is considered rare, but it is as prevalent as Multiple Sclerosis. You've heard of that, right?
We're looking to have Congressional hearings into the impact of Headache Disorders. We brought our 11,000+ signature petition (if you haven't signed yet, do it now please! Headache Impact Petition) and visited legislative aides and legislators from over 30 states. I went to the New Jersey Senators and several Congressmen with my friend, Rutgers Sociology professor Joanna Kempner, who studies the societal impact of Headache. I was moved to tears several times thinking of my sisters and brothers with chronic Migraine who could not be there – it was an honor to be able to represent you. Joanna and I told our stories, and we were able to see what incredible progress the two of us (both chronic Migraine sufferers) had made in the three years since we last walked the Hill together. (Joanna carried the torch for New Jersey by herself for the past two years when I couldn't be there).
Here's some of the information we conveyed to our legislators:
Though it wasn't on our leave-behinds, we also talked about the increased risk of suicide to all Headache Disorder sufferers. (I think sometimes our diseases don't get taken as seriously because they are not considered to be fatal, but between increased cardio-vascular risk and suicide risk, I think they're fatal enough.) In general we had sympathetic listeners in the Congressional aides we met with. Congressman Rush Holt (NJ 12th district) came in while we were meeting with his aide, and both of them gave us a very warm and interested hearing.
We're following up, and results can take a while. In the meantime, please contact your legislators and let them know how you are impacted by Headache Disorders. We can make a difference.
- Megan Oltman
Tags: AHDA, Alliance for Headache Disorders Advocacy, Congress, Headache on the Hill, Joanna Kempner PhD, Rush Holt
Posted in Advocacy | Comments (2)
October 16th, 2010
On Thursday of this week I had a great opportunity. I was invited by Jack Barrette of WEGO Health to be on a panel presenting Health Activists' perspectives to pharmaceutical marketers. The conference was called the Multi-Channel Pharma Marketing Event, and participants were hearing about how to market in a new world of informed medical consumers, health activists, and social media. My fellow panelist was Allison Blass, of Lemonade Life, a diabetes blogger and activist.
So here's what I think about Migraine and pharmaceutical companies, what I went into this conference with. First of all, pharma companies want to sell their drugs, because that's what they do, and how they make their profits. So marketers are looking for new and better ways to… that's right, market their products. Do their companies make too much profit? Are drugs too expensive? Well it is very expensive to develop new products, and takes years and years. I understand this. The fact that insurance companies are run on a profit motive is a harder one for me to take – their motive will never make them want to give us all we need to treat our disease, and the fact that we have uninsured people, and no universal, single-payer system, so some people can't afford meds at all, and others are at the mercy of insurance companies that ration meds, those are the real crimes. Don't even get me started!
So how much should pharma companies profit? I don't know. I don't know whether they make more profit than say, banks and financial companies. I do know they
make something we need, and our system runs on profit. And here's where the Migraine angle comes in – they don't make enough of what we need, the basic research hasn't been done yet, they haven't developed the drugs, we haven't had a real new innovation since the triptans, and we need better products to prevent and treat Migraines. Desperately! You with me so far?  What we really need is a cure, as Allison said, so ultimately the pharma companies should be in the business of putting themselves out of business. Because it's the right thing to do.
In the meantime pharma companies want to get involved in social media, because that's where not only consumers but opinion leaders are. I asked a number of you on Facebook to tell me what I should say to them, and there was a fair degree of skepticism about their motives. It seemed to me the people I met were decent, committed people, who are selling things they believe in.  As one told me, he'd rather be selling drugs that help people then a lot of other things.
Anyway, Jack asked us to speak on what the rules of the road are, and what we would do if we had 10
million dollars to spend in our health communities. Allison and I expressed things in different ways but came up with a number of very similar ideas. I said, Rules of the Road: you have the power to educate, use it wisely and well.  Don't try to sell something like Excedrin Migraine as if it were a one-size fits all solution, a cure, and fail to disclose that 1. it doesn't abort your Migraine, only covers up the pain; 2. it won't kill the pain for many of us; and 3. it carries a substantial risk of Medication Overuse (rebound) Headache if used more than a couple of days in a row, or a couple of days a week. It was easy to pick on Excedrin Migraine because so many of us Migraineurs love to hate their ads!
As for the Imaginary 10 million, how about spending most of it to get the basic research about this disease done? Support Alliance for Headache Disorders Advocacy and Migraine Research Foundation. Then if they want to spend some money on line supporting our community, sponsor patient education, Migraine diaries, information about a whole life approach to managing Migraine (an approach that pharmaceuticals are only one part of).  Let some more of us who are committed to helping people with this disease become professionals at it by supporting our efforts with paid positions. Life costs money (as Allison said) and people with the passion to help should be able to make a living at it. And if you support and sponsor what our community needs, and are known as good guys, we will be more eager for your products when they are finally developed, and more likely to continue using your products over time, if they do their job.
The audience was great, asked terrific questions, and it was a great experience. Kudos to Jack who had me really get present again to what I am doing and why. As you may know if you read my sparse postings lately, I have been working a demanding day job as an attorney and mediator, and haven't found much time to be on line lately. Well, I'm lit up and raring to go, so expect to hear some more from me.
- Megan
Tags: Alliance for Headache Disorders Advocacy, migraine, Migraine research, Migraine Research Foundation, Multi-Channel Pharma Marketing Event, pharmaceuticals, WEGO Health
Posted in Advocacy, Medicine | Comments (0)
December 9th, 2009

The AHDA (Alliance for Headache Disorders Advocacy) makes us aware of an opportunity to make a difference in the future of headache medicine. Please take action today to support the the Klobuchar / Collins Amendment to the Senate Health Care Reform Bill. Apparently the bill sets up bonus Medicare payments to doctors from certain primary care specialties. This will give an incentive and encourage doctors to enter and stay in primary care practice.
The AHDA tells us:
Physicians who specialize in headache medicine provide primary or principal care for patients with headache disorders and more than 90% of them are neurologists. Unfortunately, neurologists have been unaccountably left out of eligibility for these bonuses. If the Health Reform Bill passes with the incentive program as it is written, it will significantly undermine the ability to recruit and retain doctors to the field of headache medicine. Headache doctors are already very scarce, and it will become that much harder to find one.
Senators Klobuchar of Minnesota, Collins of Maine and Brown of Ohio, created a bipartisan amendment to the bill that would add neurologists to the Medicare incentive program. The AHDA is backing the amendment along with other groups that support sufferers from neurological diseases, including the American Academy of Neurology, the ALS Association, the Parkinson's Action Network, the Epilepsy Foundation, the Brain Injury Association of America, the Alzheimer's Foundation of America, and the National Multiple Sclerosis Society.
In five minutes or less, you can add your voice to support for the Klobuchar / Collins Amendment and help encourage doctors to go into and stay in headache medicine. Just go to the AHDA's special dedicated page: Email Your Senators to Support the Klobuchar/Collins Amendment. They've designed it to be really easy – please just take a few minutes and do it now! That is all.
- Megan
Tags: Alliance for Headache Disorders Advocacy, headache disorders, headache specialists, health care reform
Posted in Advocacy, Current Affairs, Medicine | Comments (0)
April 20th, 2009
Once again, there is an opportunity to take a little bitty action that makes a big difference.  There has been a National Pain Care Policy Act before Congress since 2003.  This may be the year at last, as it passed the House in March and is now in the Senate.  Pain is the most common reason that Americans access the health care system, yet there has been no consistent national standard for dealing with pain care.  This has great implications for all of us with chronic pain conditions, Migraine included.  The Alliance for Headache Disorders Advocacy has taken on passage of the National Pain Care Policy act as one of its goals – it will make a significant difference in the treatment we receive.
So, the time has come to email your senators and ask them to co-sponsor the National Pain Care Act.  It's ridiculously easy.  The good folks at the AHDA have once again set it up so all you have to do is click, type in your name and address, add a few words of your own if you wish, and you're done.
Please go over to the AHDA site and email your Senators today.  Less than five minutes, I promise, and you'll be feeling no pain (at least, not from this).
- Megan Oltman
Tags: Alliance for Headache Disorders Advocacy, National Pain Care Policy Act, pain care
Posted in Advocacy, Current Affairs | Comments (0)
March 26th, 2009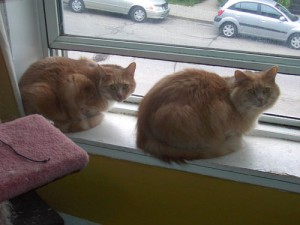 There are two days left to get your email in to Congress (that is, today and tomorrow) requesting that they sign off on language that directs the National Institutes of Health to fully fund research on Migraine and Headache disorders.  You don't even have to think up your own email, or find your Representative's contact information (or know who your Representative is) – all you have to do is click here for the Alliance for Headache Disorders Advocacy's action page.  There you can send your email in less than three minutes and a few clicks.  If you haven't done it already, please do it now.  It will mean better treatment options for all of us.  It will mean more understanding of our disease, and more options in our future.  And if we don't get enough signatures now, it will mean another year of delay, without basic research being done.  Please take a few minutes out to help.  I took three days out to go to D.C. on this effort.  You can take three minutes without leaving your chair.  Thanks!
- Megan
Cats in the window image courtesy of Helene Jutras.
Tags: Alliance for Headache Disorders Advocacy, Congress, Migraine treatment, National Institutes of Health
Posted in Advocacy | Comments (2)
March 2nd, 2009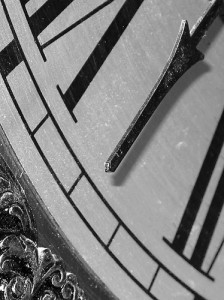 If you read my post about Headache on the Hill last week (or even if you didn't but you're keeping current in the world of Migraine advocacy) you know that there is currently a letter on Members of the US House of Representatives desks, asking them to direct the National Institutes of Health (NIH) to spend a fair share of their budget on Migraine and headache disorders research.
You can make a difference, it's easy, and the time is NOW.  Use this link to go to the Alliance for Headache Disorders Advocacy (AHDA) and take action.  There is a letter already prepared to go to your representative – you can add your own text to it, and when you fill in your address, the form will automatically determine who your representative is and direct it to the correct congressional office.  Easy as pie.  It will literally take you 2-3 minutes, and the more of us they hear form, the better chance we have of succeeding.  A sentence or two of your own experience as a Migraine sufferer will help them understand why this is so important!
Please take a couple of minutes to make a difference for all of us!
- Megan
Clock face image courtesy of Steve Burke.
Tags: Alliance for Headache Disorders Advocacy, Migraine research, National Institutes of Health
Posted in Advocacy | Comments (0)
February 25th, 2009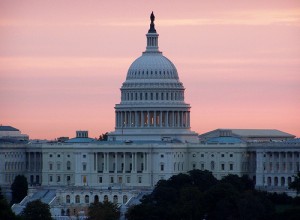 I spent the day yesterday doing something I've never done before – lobbying Congress.  I'm not entirely sure I would ever have predicted that I would lobby Congress.  It was a great experience, and one that I'm sure will take me several posts to process and tell you about.  But I can at least get started.  The Alliance for Headache Disorders Advocacy (ADHA) is a wonderful group of doctors, advocates, writers and researchers who are fighting for better headache care for YOU.  I arrived in DC on Monday for a training session put on by the AHDA and learned some key things about the underfunding of Migraine and headache disorders research, and about how to lobby.
Nearly 40 of us spent Tuesday on Capitol Hill speaking to legislators and legislative aides.  I visited two senators and three congressmen from my state, along with another Migraine sufferer.  We were requesting that they add language to the 2010 appropriations bill which will direct the National Institutes of Health (NIH) to spend a larger share of their funds on Migraine and Headache Disorder research.
Here are some of the things I learned, straight from the AHDA fact sheet which we shared with the legislative aides:
Headache Disorders are the most prevalent neurological disorders.  This year:
More than 25% of middle aged American women will have a Migraine attack.
25% of American families will have a member with a Migraine attack.
19% of all Iraq war veterans will have a Migraine attack.
12% of all Americans will have a Migraine attack.
4% of all Americans will have chronic daily headache.
US costs for headache disorders this year will be:
greater than $31 billion in total economic losses.
9% of all lost labor productivity.
greater than the costs due to epilepsy, asthma and ovarian cancer combined.
Migraine is extremely disabling, resulting in:
attacks that can be as disabling as quadriplegia or active psychosis.
more lost years of healthy life in the US than due to epilepsy, multiple sclerosis, and ovarian cancer combined.
an increased risk of cardiovascular disease leading to at least 1500 additional deaths in the US annually.
What has the response of the NIH been so far?  The NIH is responsible for funding, with our taxpayer dollars, the basic research that makes medical innovation possible.  So far the NIH funding for research on headache disorders is less than $13 million annually which comes to less than 0.05% of the NIH budget. Research of NIH funding relative to disease burdens (the impact of a disease on society, including prevalence, economics, disability, and mortality, as discussed above), shows that a fair share of funds for headache disorders (compared to other diseases with similar disease burdens) should be at least $103 million annually.
We got a good reception, particularly from our senators' aides.  There is more work to do, but I think we are making an impact.  You can make an impact too.  Go to the ADHA site and sign up for their action alerts.  On Monday, March 2 we will be asking you to email your congressional representatives, asking them to sign on to the language directing the NIH to do the right thing with regard to headache disorders.  If you sign up for AHDA action alerts today, taking action next week will be as easy as a couple of clicks.
- Megan
We can make a difference!
US Capitol image courtesy of Kim Baker.
Tags: AHDA, Alliance for Headache Disorders Advocacy, Chronic Daily Headache, disability, disease burden, headache disorders, migraine
Posted in Advocacy, Current Affairs, Medicine, Science, Uncategorized | Comments (9)
February 7th, 2009
Most of the time we do what we can to manage our own Migraines and support others, but don't feel like we can have much of an impact on the disease itself or our treatment options. Coming up on February 24th is the Alliance for Headache Disorders Advocacy's (ADHA) Annual "Headache on the Hill" – a day of advocacy on Capitol Hill where we will be lobbying our Congressional representatives for a larger share of National Institutes of Health dollars for Migraine and Headache Disorders research. I'm very excited to tell you that I will be in Washington along with Teri Robert and a number of leading Migraine specialists and advocates to speak with my Congressman and Senators. Read some more about what Teri has to say about it here: We Need Your Help to Get Better Migraine Treatment.
So, here's what happens in the meantime. The ADHA will need your help in writing to your representatives sometime soon, possibly before Headache on the Hill, to inform them about the issues and ask them to lend their support. Could you please go over to the ADHA site today and sign up for their mailing list?  This way you will know when it's time to write your representatives. Why are Migraine and Headache Diseases so under-represented when it comes to our National Health dollars? Probably because we haven't had the kind of organized advocacy that other diseases have had, but we can change that now!
I'll let you know here when it's time to write to your representatives, but please sign up with ADHA today so that you don't have to rely on me! Thanks for your help!
- Megan
Tags: action alerts, Alliance for Headache Disorders Advocacy, Headache on the Hill, migraine advocacy, Migraine disease, Teri Robert
Posted in Advocacy, Medicine | Comments (0)
April 4th, 2008
You Can make a Difference – Right Now!  We migraineurs spend too much of our time feeling helpless.  Part of taking back your life from this disease is to feel and be powerful wherever and whenever you can.  You can do a piece of that today.  If you are in the US, please email your senators right now!  We just got word this morning that today is the deadline to get senators on board to support increases in NIH funding for headache disorder and Migraine disease research.  Last month's efforts to get support in the House of Representatives were successful, so thanks to everyone who helped!  And now we get another chance!
Here's the text of the email I received from ADHA this morning.  You can click on the link below to email your senators in less than 5 minutes.  Thanks in advance for your support.  Together we can make a difference!
Dear Ms.
Oltman:
Our efforts last month to urge members of
the US House of Representatives to support increases in NIH funding for research
on headache disorders were highly successful. Twelve Representatives signed the
Obey/Walsh letter. This is an outstanding result for the first mobilization of
our numbers, and we are optimistic that it will be enough to have our message
appended to the House appropriations bill.
It is now time to contact your US Senators
for the same purpose. Unfortunately our window of opportunity is only narrowly
open. The letter with Senators' signatures must be submitted by today, April
4th.
Please take just 5 minutes RIGHT NOW to go
directly to http://capwiz.com/headacheadvocacy/issues/alert/?alertid=11231066&PROCESS=Take+Action
and send your message to your two US Senators
Please forward this email right away to
anyone else concerned about the inadequate state of care for patients with
headache disorders.
Only with increased research will new
effective treatments for headache disorders become available. And only with your
help will such research activities increase to levels appropriate to the huge
scale of this problem. The larger our voice, the greater will be our
impact.
Thanks again for your efforts.
Robert Shapiro, MD, PhD
William Young,
MD,
Teri Robert, PhD
Brad Klein, MD, MBA
And thanks from me too! – Megan
Tags: Alliance for Headache Disorders Advocacy
Posted in Current Affairs | Comments (0)
March 13th, 2008
Here is the text of a letter sent Tuesday of this week to all of us on the AHDA (Alliance for Headache Disorders Advocacy) mailing list.  The time is now to contact your congressperson and urge him/her to support more research funding for headache disorders.  The ADHA link below makes it very easy to do.  Please help NOW.
Dear AHDA advocates -
Well, the key moment has arrived for you to contact your Member of the US House of Representatives to take action for increasing NIH research for headache disorders.
A Dear Colleague letter was sent yesterday by Representatives Peter Welch and James Moran to all House offices, urging all Members of the House to co-sign a letter to Representatives David Obey and James Walsh. The Obey/Walsh letter requests inclusion of language that supports headache research to be appended to the FY09 appropriations bill for NIH. (For details, see the letter and attachments at the AHDA site.)
The more Representatives that co-sign the Obey/Walsh letter, the greater are the chances that the language will be included. The Obey/Walsh letter must be submitted with signatures by 3/19. This unfortunate deadline was a late-breaking surprise for us, so we have little more than a week to get as many signatures as possible. Please go to the AHDA website as soon as possible to contact your Representative and urge her/him to co-sign the Obey/Walsh letter now.
Blessings upon your heads!
- Megan Oltman
Tags: Alliance for Headache Disorders Advocacy
Posted in Current Affairs, Medicine, Science | Comments (2)