Posts Tagged 'AHDA'
April 21st, 2012
Four weeks ago I was one of sixty some-odd Migraine and Headache patients, physicians, and advocates of many kinds to spend a day and a half in Washington DC, lobbying Congress for research funding and recognition of Headache disorders.It was the Alliance for Headache Disorders Advocacy (AHDA)'s fifth annual Headache on the Hill (HOH). I participated in the second HOH three years ago and it was really inspiring to see how the group has grown in the interim. At that time I was one of very few non-physicians and very few bloggers. This year there were any number of patients, bloggers, advocates of many kinds, representatives of Migraine.com and Health Central, and NuPathe. Here we all are in front of the Capitol (I'm the short one in the orange coat):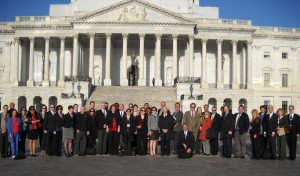 As we tried to spread the message about how incredibly prevalent, disabling and costly these conditions are, we heard a lot of stories. Given that almost 20% of Americans experience Migraine, we discovered any number of legislators and legislative staff who either had Migraine themselves or who could tell us about how disabled their aunt, cousin, friend or coworker is by the condition. There was also a large group of Cluster Headache patients who came down to advocate for headache research. I was moved and amazed by these people who experience what is considered to be the worst kind of pain a human being can experience. Many of them were in the midst of cluster attacks at the time. We found that the legislative staff we visited had never heard of Cluster Headache. The condition is considered rare, but it is as prevalent as Multiple Sclerosis. You've heard of that, right?
We're looking to have Congressional hearings into the impact of Headache Disorders. We brought our 11,000+ signature petition (if you haven't signed yet, do it now please! Headache Impact Petition) and visited legislative aides and legislators from over 30 states. I went to the New Jersey Senators and several Congressmen with my friend, Rutgers Sociology professor Joanna Kempner, who studies the societal impact of Headache. I was moved to tears several times thinking of my sisters and brothers with chronic Migraine who could not be there – it was an honor to be able to represent you. Joanna and I told our stories, and we were able to see what incredible progress the two of us (both chronic Migraine sufferers) had made in the three years since we last walked the Hill together. (Joanna carried the torch for New Jersey by herself for the past two years when I couldn't be there).
Here's some of the information we conveyed to our legislators:
Though it wasn't on our leave-behinds, we also talked about the increased risk of suicide to all Headache Disorder sufferers. (I think sometimes our diseases don't get taken as seriously because they are not considered to be fatal, but between increased cardio-vascular risk and suicide risk, I think they're fatal enough.) In general we had sympathetic listeners in the Congressional aides we met with. Congressman Rush Holt (NJ 12th district) came in while we were meeting with his aide, and both of them gave us a very warm and interested hearing.
We're following up, and results can take a while. In the meantime, please contact your legislators and let them know how you are impacted by Headache Disorders. We can make a difference.
- Megan Oltman
Tags: AHDA, Alliance for Headache Disorders Advocacy, Congress, Headache on the Hill, Joanna Kempner PhD, Rush Holt
Posted in Advocacy | Comments (2)
October 24th, 2009
Betsy Blondin, editor and creator of the spectacular book of art and writing by Migraineurs, Migraine

Expressions, has created a new advocacy campaign. A friend suggested that people purchase a copy of Migraine Expressions for their U.S. Senator or Representative, to help raise awareness and understanding of our disease in Congress. Betsy loved the idea and launched the effort to "Express Migraine to Congress." At least 7 books are on the way to Congress!
To participate, purchase a book for $18.95 here: Express Migraine to Congress, and let Betsy know on the PayPal form or via e-mail which Congress person to send it to. Betsy will keep track of the Congress members receiving books so we won't duplicate efforts on Betsy's blog here.  For each book purchased for Congress, Betsy will donate $1 to the Alliance for Headache Disorders Advocacy (AHDA) toward advocacy efforts.
If you can't afford to buy a book, you can use the links on Betsy's Senate and House of Representatives pages to send a message to your Congress members, asking them to help millions of Migraineurs by supporting Congressional hearings and increased funding for migraine research.
I'll be going to the AHDA's third Headache on the Hill day of advocacy in February, and these books sent to Congress beforehand will help raise awareness of what we are lobbying about. Momentum is building for Congressional action. Our lobbying efforts have resulted in legislative report language supporting increased attention by the NIH for migraine research. Cindy McCain coming forward as a Migraineur and pledging to advocate for Congressional hearings, has to increase our visibility.
Let's support Betsy in this great idea to raise awareness!
- Megan Oltman
Tags: AHDA, Congress, Headache on the Hill, migraine advocacy
Posted in Advocacy, Books | Comments (0)
February 25th, 2009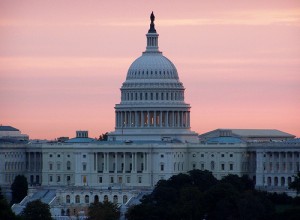 I spent the day yesterday doing something I've never done before – lobbying Congress.  I'm not entirely sure I would ever have predicted that I would lobby Congress.  It was a great experience, and one that I'm sure will take me several posts to process and tell you about.  But I can at least get started.  The Alliance for Headache Disorders Advocacy (ADHA) is a wonderful group of doctors, advocates, writers and researchers who are fighting for better headache care for YOU.  I arrived in DC on Monday for a training session put on by the AHDA and learned some key things about the underfunding of Migraine and headache disorders research, and about how to lobby.
Nearly 40 of us spent Tuesday on Capitol Hill speaking to legislators and legislative aides.  I visited two senators and three congressmen from my state, along with another Migraine sufferer.  We were requesting that they add language to the 2010 appropriations bill which will direct the National Institutes of Health (NIH) to spend a larger share of their funds on Migraine and Headache Disorder research.
Here are some of the things I learned, straight from the AHDA fact sheet which we shared with the legislative aides:
Headache Disorders are the most prevalent neurological disorders.  This year:
More than 25% of middle aged American women will have a Migraine attack.
25% of American families will have a member with a Migraine attack.
19% of all Iraq war veterans will have a Migraine attack.
12% of all Americans will have a Migraine attack.
4% of all Americans will have chronic daily headache.
US costs for headache disorders this year will be:
greater than $31 billion in total economic losses.
9% of all lost labor productivity.
greater than the costs due to epilepsy, asthma and ovarian cancer combined.
Migraine is extremely disabling, resulting in:
attacks that can be as disabling as quadriplegia or active psychosis.
more lost years of healthy life in the US than due to epilepsy, multiple sclerosis, and ovarian cancer combined.
an increased risk of cardiovascular disease leading to at least 1500 additional deaths in the US annually.
What has the response of the NIH been so far?  The NIH is responsible for funding, with our taxpayer dollars, the basic research that makes medical innovation possible.  So far the NIH funding for research on headache disorders is less than $13 million annually which comes to less than 0.05% of the NIH budget. Research of NIH funding relative to disease burdens (the impact of a disease on society, including prevalence, economics, disability, and mortality, as discussed above), shows that a fair share of funds for headache disorders (compared to other diseases with similar disease burdens) should be at least $103 million annually.
We got a good reception, particularly from our senators' aides.  There is more work to do, but I think we are making an impact.  You can make an impact too.  Go to the ADHA site and sign up for their action alerts.  On Monday, March 2 we will be asking you to email your congressional representatives, asking them to sign on to the language directing the NIH to do the right thing with regard to headache disorders.  If you sign up for AHDA action alerts today, taking action next week will be as easy as a couple of clicks.
- Megan
We can make a difference!
US Capitol image courtesy of Kim Baker.
Tags: AHDA, Alliance for Headache Disorders Advocacy, Chronic Daily Headache, disability, disease burden, headache disorders, migraine
Posted in Advocacy, Current Affairs, Medicine, Science, Uncategorized | Comments (9)