May 15th, 2010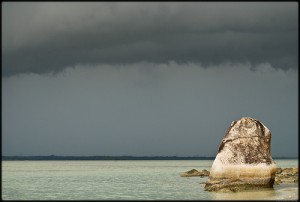 My Migraine triggers generally include: lack of sleep; sleep at irregular hours; missing meals or going too long without eating (low blood sugar); working hard when tired (over-exertion, let-down after stress); hormonal fluctuations; electrical storms and barometric pressure changes; loud noises; crowds; smoke; crying; change of altitude.  Last night I sat through a perfect storm of triggers without actually getting a Migraine. Every trigger but the last three were present.
It went like this: I went to my Friday morning BNI meeting, which involves getting up at 6. That wouldn't be too bad if I managed to get to sleep by 10 or so, but I never do. I go to sleep between 11 and 11:30 most nights and I have a very hard time cutting my evening shorter. Ideally I would go to bed and get up at the same time every day; it would be best for Migraine prevention and make those Fridays easy to bear. But I live in a household of night-owls and I've never been able to reconcile myself to having a completely different schedule from the rest of my family. Besides, most of my favorite tv shows are on from 10 – 11! So I got up and got going on less than 7 hours of sleep.
I worked hard all day, working with an intensive focus towards a deadline. It was a warm muggy day with thunderstorms in the forecast, and the building storm was palpable in the air. Then at the end of the working day I attended a charitable event that I was invited to by a friend. It was really a lovely event, a tour of a designer show-house and a dinner in a tent in the back with a couple of presentations, then arias by a couple of opera singers, and finally they held an auction.
I didn't make it that long though. The thunderstorms broke while we were touring the house, and it was still raining when we went out to the tent. One of the sponsors of the event was a local appliance store, and one of the presentations was on outdoor kitchens. So they got a great local chef to cook a meal (for at least 100 people) on a huge outdoor grill that was being auctioned off. All a very nice concept, but apparently no one had really thought through how long it would take to grill several courses for 100 or more people. They began serving wine before the presentations started; an hour or more later they passed around some little cubes of grilled bread. The next course, grilled vegetables, came out more than half an hour later. then some grilled seafood at least a half hour after that. Each course was served on large platters to be passed around and shared. Each course gave each of us enough to tantalize but not enough to keep us from being hungry.
All the while there were presentations going on, and a lot of hungry people were drinking more and more wine, talking and laughing louder and louder, halfway drowning out the presentations. Then the opera portion started, and while the singing was excellent, I was right up front and the acoustics of loud operatic singing under a tent with thick humid air all around were overwhelming. Not to mention that people had had quite a bit to drink by that time and were not sitting quietly listening to the music. The competing sounds battered at my ear-drums. The smells from the grill wafted over for hours without any food following for a very long time. After the seafood course we sat even longer without food. I felt increasingly jittery from low blood sugar, worn from lack of sleep and a long hard day, battered by the noise, closed in by the crowd, pressed on by the humidity, shaken by the storms, confused by the multiple inputs and noise, distressed by wanting to be a good guest and not feeling up to it. I had many warning twinges in my temples and felt sure a Migraine was on the way.
My dear and very perceptive friend Izzy could tell something was going on and asked me. I shared with him what was going on in my internal world. He went to the kitchen and told them I needed food right away for a medical condition. He came back with some very rare meat which I ate most of and shared some of with a few of my neighbors. I felt bad because I knew everyone was hungry. I stayed until some more meat came out, which was quite a while later. I had a little and then left to go home. I was able to drive myself home, got in and ate yogurt and cereal with milk, some quick protein and calories. Then I collapsed.
The fact that I didn't get a Migraine is pretty amazing. My nortriptyline, and my supplements, and my regular eating, and all the sleep I generally get (except on Thursday nights), and my regular walking, and my relaxation exercises, and all the other things I am doing to regulate my system… these are obviously paying off! A year ago I am sure that just the lack of sleep and a few hours of intensive work would have given me a Migraine – I wouldn't even have made it to the evening event.
On the other hand, I had an exhausted night of very poor sleep, and today I am having a major fibromyalgia flare-up. My everything hurts today. My head is only a little tender, though, no pounding, no intense pain there. That's still a victory!
- Megan Oltman
Approaching Storm image courtesy of Stephan Mantler.
Tags: fibromyalgia, migraine prevention, Migraine triggers
Posted in Managing, Rant | Comments (0)