February 9th, 2017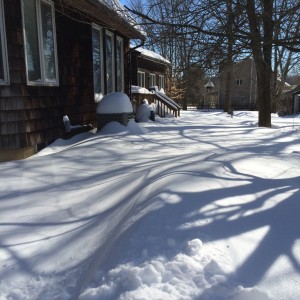 That's the side of my house after a snowstorm last year. Today we have only about a third of the snow (probably not more than 8 inches today) but it is way too cold and windy for me to want to take pictures. I set out to meet a client at my office after being home all day, encountered slick roads with masses of snow blown across them, and there was a big accident with people in the ditch, tow-trucks, police cars, lots of lights, completely blocking the road out of town. I came home and called the client to cancel.
We're all disabled, more or less, by the snow. My email yesterday was full of notices of cancelled meetings in anticipation of today's winter storm. Danny and I both worked from home; college classes were cancelled for Adam. Adam cleared the steps and got a car un-buried and running for me – we'll have to deal with the rest tomorrow. Snowy days tend to make me feel simultaneously peaceful and antsy – I want to take a nap, I want to run around. I'm just glad I don't have a migraine.
To add to the litany of injuries and ailments, I managed to herniate a disc in my low back right after Christmas. After several weeks of physical therapy it is feeling much better. I did have a fair amount of pain yesterday and my physical therapist said she thought it was probably the storm coming. I really don't need another weather-predicting injury. Between my formerly broken elbow, my sensitive head, and my overall nervous system, I already had this human-barometer thing covered. The good news is I have a great excuse not to shovel any snow.
My weather sensitivities used to be mainly around thunderstorms – when a front moved in, I would get a migraine. And often a fibromyalgia flare to go with it. And a sore elbow. The past few summers I've been less consistent and weathered any number of thunderstorms without a migraine, but the past few winters I have had migraines triggered by snowstorms rolling in. Those of you who live in snowy climes – you know that peaceful feeling when the snow is falling? I have really missed that, and the snow falling tends to have my head exploding. Not today, I am glad to say. I had a few twinges in the worst of the storm, and when I tried my expedition out my head informed me that it was not keen on the wind that's blowing out there. But I am counting my blessings. I'm back inside, and warm, and feeling no pain.
Be well, my friends!
- Megan Oltman
Tags: Adam Oltman Porcher, Adam Porcher, fibromyalgia, herniated disc, migraine, weather-related migraine
Posted in Managing, Science | Comments (0)