March 20th, 2010
A malevolent bloom, knife-edged petals in my brain,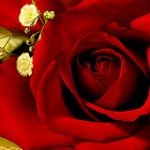 an unwanted blossom, unfurling, sculpting pain.
How long beneath the surface were you creeping, unseen?
Tension nurtures, hunger feeds you, worry grows you evergreen.
Each day ill-rested that I drag me from my bed,
pull on clothing, pour down coffee, wear my cares upon my head,
each day pushing, each day working at the work to stay alive,
is another day you're growing, so to cut me as I strive.
Flower of blood, flower of evil, ugly flower of dawning pain,
Growing stronger, cutting deeper, sculpting patterns in my brain.
- Megan Oltman
Tags: migraine, poetry
Posted in Musings | Comments (0)