November 3rd, 2009
I've been getting a lot of medication questions from readers lately. Of course what we are all looking for is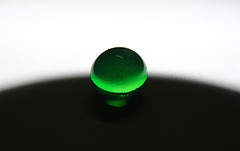 something that will help us feel better, without side effects that mess up our lives! I am not a medication expert. I'm not a doctor, and while I am interested in science I haven't taken a science class since college, many years ago! What I do is help people with Migraine disease manage their lives, inside of the resources that are available, part cheerleader (you Can do it!), part manager (here's how – here's when – let's plan it), part personal trainer (yes, just stretch a little further, let's keep it going), part teacher (here's some knowledge and information that will help).
In my view, medication is a partial solution. We have a brain chemistry that causes us to have Migraine attacks – that chemistry can be partially addressed with medication. We can also have a large impact on our nervous systems through regulating our lives – getting regular sleep and relaxation, eating properly and regularly. Learning our triggers and getting attuned to our energy levels, we can reduce our Migraines. With a combination of medication and this kind of self-knowledge, we can reduce Migraines significantly.
That said, here is some basic information about types medication for Migraine.
Preventive Medications

: These are medications that lower the responsiveness or triggerability of our nervous systems, reducing the number of Migraines we get. There are over a hundred different medications that are used as preventives. None of them were actually developed for Migraine prevention, but started as off-label uses of drugs for other conditions. They come from many families of drugs, and there are nutritional supplements used as well. The most commonly used ones fall into three categories:
anticonvulsants, the same kind of medications that are prescribed to treat epilepsy, such as Topamax or Depakote;
antidepressants, several different classes of these drugs can help prevent Migraines, generally prescribed at a much lower dose than used to treat depression; and
antihypertensives, again, several different classes of these drugs are effective for some people.
No preventive medicine will prevent every single Migraine, and different ones work, alone or in     combination, for different people. A very complete list of these medications is available at My Migraine Connection: Migraine Preventive Medications – Too Many Options To Give Up!
Abortive Medications

: These are medications that stop a Migraine in progress. They act directly on the nerves which are firing, causing the Migraine process. They are not pain-killers, but will stop the process that is causing the pain, and when effective they will usually work within a few hours. They include the triptans (the only readily available class of drugs that were developed specifically for Migraine treatment) as well as ergotamines and compound medications like Midrin and Treximet. The compound medications contain a pain-killer as well as an abortive agent, so be cautious when using with other pain-killers so as not to take too much at one time.

Rescue Medications

: Rescue medications are usually pain-killers, anti-nausea medications, or relaxants. They do not stop a Migraine themselves but help to mask the pain and let us relax while the Migraine runs its course. They are to be used when you can't take abortive medications or when abortives have failed. Rescue medications which are in the opioid and barbiturate families should generally not be used more than 3 times per month, as they carry a risk of causing transformed Migraine – a condition with daily head pain and frequent Migraine attacks.
Over the counter pain medications, even if they have "migraine" in the name, do nothing but cover up the pain for a short time, and are not truly Migraine medications. They may be the only alternative for you at a particular time, if you don't have prescription medications or you can't take them. But several cautions:
Some over the counter medications carry serious risks – acetaminophen (Tylenol) for instance, can cause severe liver damage and even death if taken in excess of the dosing amounts. If you take it and then vomit, you can't know whether the medication was absorbed before you vomited – it is a severe risk to take more! It is also present in combination in drugs like Midrin (which contains a drug to widen narrowed blood vessels in the brain and a relaxant, as well as acetaminophen), Percocet (which contains a narcotic pain-reliever as well as acetaminophen) and Fioricet (which contains caffeine and a sedative as well as acetaminophen). When taking these combination drugs you must be careful not to take additional acetaminophen.
Any pain medication taken more than 2-3 days in a week can cause rebound headaches – or Medication Overuse Headache – which can feel as severe as a Migraine. This is also true of taking triptans more than 2-3 days per week.
It is rare but possible to develop a life-threatening allergy to NSAIDS (aspirin family – aspirin, ibuprofen, naproxen). This happened to me. If you have any signs of an allergic reaction to any medication, stop using it and seek medical help.
If you have 3 or more Migraines per month, Migraine specialists will consider you a candidate for preventive medication. Most Migraine specialists will prescribe a preventive, abortive and rescue medication for you, so that you can prevent as many Migraines as possible and treat the ones that happen anyway. If your doctor has run out of options, or you are working with a doctor who is not a Migraine specialist, you can get great information about treatment options at My Migraine Connection: Preventive, Abortive, and Rescue Medications – What's the Difference?
- Megan
Magic pill image courtesy of [O*] 'BharaT.
Tags: Migraine abortive medication, Migraine preventive medication, MIgraine rescue medication
Posted in Medicine | Comments (0)