April 8th, 2009
I really do want to know. I'm very curious about this phenomenon – we seem to be so drawn to things that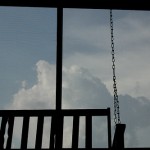 are fun, or enjoyable, or give us some kind of gratification, but don't actually relax us. For instance (when in doubt, I'll always tell one on myself) I am very drawn to playing Snood – a computer game that involves shooting down these silly faces with matching faces – lots of eye-hand coordination, speed, a danger-bar that raises the stress level, electronic music and noises, bright colors on a computer screen – Migraine hell, yes? Why would I want to do that? Is it relaxing? No! Fun? Yes!
Some people like roller coasters. Gut-wrenching fear. The sense you are about to die. The sensation of your heart about to burst from your chest (not really my cup of tea…). Is that relaxing? That's a different issue, really. The endorphins your body releases after the ride, when it realizes you have survived, are probably what keeps you coming back. The endorphin rush is very sweet. But is it relaxing?
Now – a walk in the woods. A swim in the ocean, or a lake. A long gentle bike ride. Rocking on a porch swing on a breezy day. Meditating. Yoga. Deep breathing. Guided visualization. A really good laugh. A great talk with a friend. Loving and satisfying sex. A massage. A hot bath. Clearing your mind and practicing letting go. These things truly are relaxing.
When I am working, whether I am writing here on this site, creating more classes for you, working with coaching clients, or doing legal work, I enjoy what I am doing, and I can get into a zone where I just keep rolling and I don't want to stop. I've learned to recognize when I need a break, and I know how important it is to relax. But I will tell you right here and now, it is not easy, even for me. It's hard to break away. When we're on a roll, we want to keep rolling. When we're on the computer, we want to stay on the computer. But what our nervous systems need is for us to shift, to take a break, to practice relaxation.
Deliberate relaxation practice at least three times a week (preferably five) can reduce your Migraine triggerability. How does that work? You will be exercising your parasympathetic nervous system – strengthening your relaxation response. You develop your ability to relax, to release stress, turn off the pressure valve. Deep breathing and guided visualization are two great methods, and I use them in the BREESE relaxation teleclasses.  There's more about the relaxation response in the Free my Brain Migraine Management Newsletter coming out this week, and if you're not already receiving the newsletter you can sign up for it in the Six Migraine Keys box in the upper right corner of the page.
But I want you to know – I do my relaxation practice, as regularly as I can, and I take breaks and breathe, and take little walks, and do all those things I know I should, but it's hard!  And I still like to do things that are fun, but not particularly relaxing.  I'm lucky – I get to lead relaxation classes, so I get a chance to relax with all of you.  What do you do to relax?
- Megan
Porch swing image courtesy of Elvissa.
Tags: relaxation practice, relaxation techniques
Posted in Managing, Tips & Techniques | Comments (3)