December 14th, 2009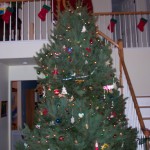 For a number of years, my husband and I hosted a big post-Christmas holiday gathering for my extended family. This gathering had gone on at my parents' house for many years prior. Each of the smaller nuclear families (mine, my siblings', aunt & uncle & cousins') would have their own Christmas Day at home, and then sometime afterwards everyone would get together for a big collective meal and gift-giving. Since we all live several hours apart, this would generally turn into a weekend-long extravaganza, with many people sleeping over for several nights. The part where we were all together generally involved 14 – 22 people.
My family gets along well, and while some readers may roll their eyes at the thought of so many relatives gathered, it has been a largely joyous occasion. When my parents sold their big house and moved on to an apartment and then a retirement community, my sister took on hosting Thanksgiving and we took Christmas. We cut the expense, noise, tumult and confusion of the gift giving by drawing lots for gifts to adults, and cut the cooking difficulties by doing some degree of pot-luck.
But… I went on hosting these events some years beyond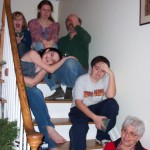 when some family and friends were questioning my ability to do it. I have been living now for about 14 years with chronic illness, and when hosting big events, there have been predictable outcomes. I would wear myself out, either with clean-up and preparation, or with running around taking care of the guests in my home, or with cooking, or with trying to keep up with the mess generated by my husband's enthusiastic (delicious) and whirlwind cooking.
My challenged immune system would hand me an illness or infection a majority of the time. Or my sensitive nervous system would react to the added stress and noise and confusion by hitting me with a major Migraine. Or both. I would try to compensate by planning better, systematizing everything. This would both create more work for me and make my husband crazy due to my micro-managing. And then there were the crowds themselves for gift-giving or major meals, where I never do well. My head would be spinning in no time, my anxiety level would hit the roof with the noise and over-stimulation, and I would become cranky and short with people. I would spend some part of the celebration closed up in a room by myself in pain, and inevitably the guests would have to pick up a lot of the work it took to get through the weekend.
We moved four years ago to our current home, which is about 35% smaller than our last home. We did a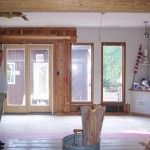 huge renovation on this house and part of our planning was around how to accommodate a big crowd for Christmas. The time we have been in this house, however, has been the same time period as the worst of my chronic Migraines. We hosted one Christmas two months after moving in, with many things still in boxes and the construction not quite complete. We hosted  one other year. When we put many tables together to sit down for a meal, you could not leave your place at the table without 2 or 3 other people getting up as well.  When we tried to open presents in the front room with the Christmas tree, some people had to stand in the next room and look on. Another year we tried doing an abbreviated gathering when some family members were away, only inviting a few others. I had mixed feelings and was not clear with everyone about this, and hurt the feelings of those left out.
Last year, with tears and soul searching, we bowed out of hosting. We went to my sister's for two big holiday gatherings, and we'll be doing it again this year. My home will stay quiet; our Christmas day will be simple and relaxed; we will be with family in a less stressful space. But… I miss having my family here. I miss sharing my life, my things, my space with the people I love. In answer to the title of this post, this is what we are doing to celebrate and still have me take care of myself. But… I'm running  2 weeks at a time without a Migraine these days, and have more energy, and I have to admit I am thinking about how to take the whole thing on again – maybe next year. We'll see.
How do you celebrate and still take care of yourself?
- Megan
Tags: chronic illness, holidays, Migraines, self care, Stress
Posted in Communicating, Managing, Musings | Comments (1)