April 8th, 2012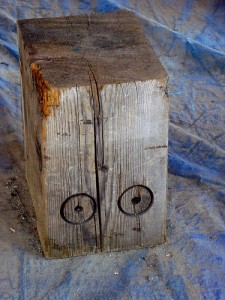 Well, not literally. Not that it would be unheard of in the Migraine  world, many of us have banged our heads at times when the beast has settled down upon us. It's a kind of counter-irritant, I guess. Something, anything, to try to break the repetitive throbbing. Or a distraction, some surface pain to focus on instead of the hideous rending inside the head. I'm really glad I don't have many Migraines that get that bad any more.
Last Monday I woke up after a rough night, sleepy and with a mild ache on the left side of my forehead. Technically I'm sure it was a Migraine already, but I thought of it, as I often do, as more of a maybe-migraine, a migraine wannabe. My first impulse (so often the right one) was to call in to work, take my sumatriptan and go back to bed. And then the thought entered my mind of the budget for the month, and of the sick leave hours I try to budget too, and how since my Migraines have become less frequent I sometimes have a little headache that doesn't turn into a full-blown Migraine. So my little headache and I went off to work, and chose to focus on the less mentally taxing of the tasks on my desk, and did most of my thinking out loud to help me focus, and took a walk at lunch, and did all I could to keep the beast at bay.
But I was talking about head-banging. Which I wanted to do before the night was out. I got home and tried to focus on all the stuff I try to focus on after work, like visiting my on-line world, Migraine related and otherwise, and helping Adam manage his homework, and imposing some kind of order on the chaos that is my home, and trying to build up and work on some of my free-lance work, and I found all I could do was go take a sumatriptan and lie down.
I set the alarm for about an hour and a half, rolled a pillow under my aching neck and dosed off, hoping the pill would do its job. And woke up groggy when the alarm went off, groggy and in pain. Groggy and nauseous and hungry and in pain. It was not yet two hours from the time I took the triptan, so I couldn't do another dose, and the pill had had no noticeable effect. So I had to wait 15 minutes or so, and I needed to eat something for my blood sugar which was dropping (contributing to the Migraine). The head had started throbbing, one of those times when I imagined I could specifically feel each dilated vein around my brain pulsing and stretching and shoving against my skull.
So did I hit myself upside the head? In a sense. I didn't actually feel like head-banging this time, though it was the worst Migraine I've had for a few months. Probably about an 8 out of 10 this time, the kind that makes me cry. I knew I had to bring out the big guns this time. I had to give myself a sumatriptan injection. A highly effective way to abort the Migraine, but which I put off and avoid as long as I possibly can. Why on earth would that be, you ask? If you have to ask you have never had one of these injections, or you are lucky  enough not to experience them the way I do. First of all the injection itself hurts. It's a spring-loaded injector; you shove it hard against your arm and hold it there, pressing until it injects. It's not a jab, it's a SLAM-STAB, and you have to keep pushing that thing in for 30 seconds to make sure all the medicine goes in, I do it while breathing hard through my gritted teeth.
Then you need to take your sore and aching arm and get yourself prone as quickly and smoothly as you can, so you can be lying down as st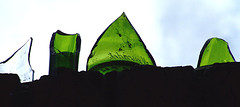 ill as can be when the real head slam comes. For me, and I understand for many others, the injection causes a "surge" of increased head pain before it begins to work. So the only thing, sometimes, that will make the pain go away, is a short-term, extreme increase in the pain. When I say short-term, it's not an agonizing 30 seconds like the injection torture. It's a good five to ten minutes of the front of my head feeling like it's being hit with a tire iron, from the inside.
The only thing that gets me through to the other side is lying on my back as still as I can, doing my relaxation breathing. I have to go into the pain, be with the pain, and visualize my breath carrying the pain away, out with each exhale. And eventually I fall asleep, and usually in that sleep the pain goes away.
This time it took a long time, almost until morning, before the pain lifted. If I'd followed my original impulse and taken a pill in the morning before the pain was much of anything, I probably wouldn't have needed the injection. If I'd taken the injection right away when I got home I probably would have been pain free in two hours. But I couldn't bring myself to hit myself upside the head. Until there was no alternative.  If you've been there, you know what I mean.
- Megan Oltman
Tags: Adam Oltman Porcher, Adam Porcher, Migraine pain, pain management, sumatriptan, triptans
Posted in Communicating, Managing | Comments (2)