June 8th, 2009
It's a big week in the world of headache – first of all it's Migraine and Headache Blog Carnival time again,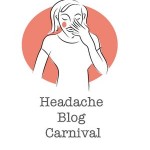 with this month's topic of "What people don't understand about migraines & about what it's like to live with them" posted over at Somebody Heal Me. Lots of great posts, both on and off topic. If you haven't checked out The Headache & Migraine Disease Blog Carnival before, it was been created to provide both headache patients and people who blog about headaches with opportunities to share ideas on topics of particular interest and importance to us.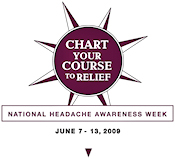 But even bigger news is that it's National Headache Awareness week, sponsored by the National Headache Foundation.  Educational events are going on throughout the country this week to raise awareness of Migraine and other headache disorders.  A great new tool on the National Headache Foundation web site is Headache U, an on-line resource where you can look up your experiences with headache, create a personal headache profile, and get matched with the right resources for you.
A great week for educating both ourselves and the other people in our lives about Migraine Disease and Headache Disorders!
- Megan
Tags: blog carnival, headache disorders, Migraine and Headache awareness, Migraine disease, National Headache Awareness Week
Posted in Advocacy, Communicating, Weblogs | Comments (1)