February 12th, 2010
What? It's 43 days into 2010!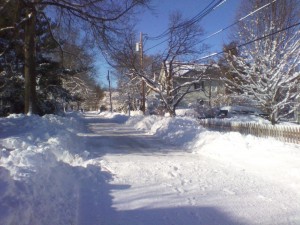 I know, but I haven't posted since January 7th; I feel like I need to catch up with you all. Greetings from snow-bound New Jersey!
I just saw that Medical Assistants.Net listed me as "One of the Top 50 Health and Wellness Blogs to Watch in 2010." If that's the case, I'd better get writing!
It's been a busy month and a half for me. I have returned to my professional roots and taken a half-time job as a lawyer. I love working with you all to help you manage your Migraines, but it's not keeping me busy full-time. I'm lucky to have a good set of skills to return to, and a great firm owner who knows me, likes my work, and is very flexible about my health needs.
I haven't missed a day for a Migraine yet, though I have to admit I've had a few let-down Migraines after busy days at work. I am adjusting to a new schedule. That takes some time for a Migraineur – our systems crave regularity, and tend to freak out when we change things up on them. It took a few weeks to build enough stamina to have energy left for the other things I do. I am very glad that my preventive medication works well for me, and that my years of practice in managing my Migraines have given me the breathing and relaxation skills to get me through.
When I left the practice of law in 2000 I thought I'd never be able to go back to the pace and demands without frequent Migraines. I'm happy to report that my Migraines haven't increased at all. Even better, I seem to have a reputation around the office as a calm person and a calming influence. That would have shocked those who knew me a few decades ago! Learning to manage Migraines, to keep my system on even keel, has left me knowing not to sweat the small stuff, and yes, most things are small stuff.
I owe all my subscribers a newsletter, and I am backed up with a couple of book reviews I want to give you. I have some stories about medication allergies for you and some great new products to link to. The Migraine Support & Coaching Group is going well, and I'd love to have more of you to talk to in the meetings! I think I've got my new rhythm down enough to be back and talk to you more often.
I hope your winter is going well. Let me know how you're doing!
- Megan
Tags: health and wellness blogs, let-down Migraine, managing life with migraine, Migraine preventive medication, migraine support group
Posted in Communicating, Managing, Weblogs | Comments (5)