September 21st, 2009
Hello friends. I've been quiet lately. Had a marathon summer with a lot of work and a daughter to get off to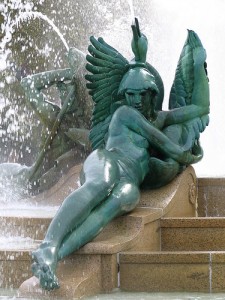 college. She is off, settled in, working hard, and having the time of her life. I flew back from three days away, moving her into her dorm, and then I attended the International Headache Congress in Philadelphia for two days, then I spent a lovely day in Manhattan with cousins from the west coast, then I spent a day working, then I went back to Philly for a first appointment at the Jefferson Headache Center, then I collapsed.
I will post about the IHC, and about my appointment at Jefferson, (both of which were great) later. What I want to talk about today is "then I collapsed" part. Well I do have to touch on the appointment at Jefferson… mostly what was discussed was my Migraines and my anxiety level. I was very happy with the care I got, the thoroughness of the history taken, the look at Migraines in the context of a whole life. I have new treatment options and new hope.
It felt like almost a side note to the exam, when the doctor pressed certain points on my body which hurt tremendously.  Once he had pressed a half dozen, I realized what he was doing – pressing the fibromyalgia tender points.  One of the diagnostic criteria for fibro is pain in at least 11 of the 18 points – well, I had a great deal of pain in 14! He asked me if I feel pain in my body on a daily basis and I said there were days when I'm achy all over, but I'm not aware of much pain in my body much of the time.
But over the next few days I couldn't stop thinking about it. My 10 day marathon of travel, launching a daughter, conference, appointments, left me bone weary and aching. You know when you first notice something you haven't seen before, and all of a sudden you see it all around? I had this sense of a puzzle piece clicking into place. Why do I fatigue so easily? For the last few years when I exert myself in any way, whether it's physical exercise, mental or emotional stress, or just being on the go for a number of days in a row, afterwards my entire body aches. For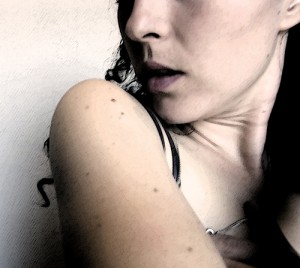 days. I have become terribly sensitive to touch, where someone bumping into me actually hurts, instead of just being jarring.  My husband and I were lying on the bed talking the other day and he had his hand on my calf. His thumb was resting on my shin, and after a few minutes just the weight of that thumb began to actually hurt.
I know people with fibromyalgia, and there are plenty of Migraineurs who also have fibro. I've read about it, and I have wondered for some time if I might have fibro too. You'll see in my profile that I say I have chronic fatigue, but I've always had some question about that diagnosis, which was more of a suspicion by my family doctor than a real confirmed diagnosis. Up to this point, though, I have avoided looking into it for myself. I don't want to face having another chronic illness. I want to live in the illusion that my limitations will go away someday. Ha! Oh well, a girl can dream.
I will investigate this further; I will talk about it at my next headache appointment. I know there are treatment options and support available. It's kind of silly, really, to prefer denial. Having all the symptoms I have and no name for it really isn't better than having the symptoms with a name. Knowledge really is power. I hear that the drugs used to treat fibro are really good for treating Migraine too, and many people's Migraines improve when their fibro is treated. We'll see. I still kind of want to stick my head back in the sand. Except I know my neck would hurt for days afterwards.
- Megan Oltman
Logan Square fountain image courtesy of Conspiracy of Happiness; shoulder image courtesy of Barbarellaa.
Tags: denial, fatigue, fibromyalgia, fibromyalgia tender points, migraine
Posted in Communicating, Managing, Medicine | Comments (2)