September 28th, 2009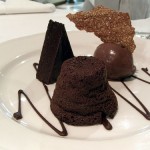 Results of a research study presented at the International Headache Congress in Philadelphia this month show preliminary indications that a diet rich in cocoa may aid in preventing Migraines. Animal studies suggest that cocoa supresses inflammatory responses in the trigeminal nerve, the main nerve involved in Migraine.
There's some irony here as chocolate is identified as a common Migraine trigger food. This may be because of caffeine or tyramine content, however, rather than cocoa content. I don't know whether the caffeine or tyramine are present in the cocoa, or in some other ingredient of chocolate. The researchers caution that these are early results. If see benefits in humans as well, maybe they will find a way to isolate the anti-inflammatory parts of the cocoa from any potentially triggering parts.
I would expect to see cocoa supplements or extracts coming down the pike. Since I have the good luck not to be triggered by chocolate (in fact, I get some relief from a Migraine by eating dark chocolate) I am going to start now. Cool weather is here – hot cocoa everyday? Why not! Mole sauce? Yum. I think I can come up with a diet rich in cocoa without too much trouble!
- Megan
Chocolate plate image courtesy of avlxyz/Alpha.
Tags: chocolate, cocoa, International Headache Society, migraine prevention
Posted in Current Affairs, Medicine, Musings | Comments (3)