Archive for the 'Science' Category
February 9th, 2017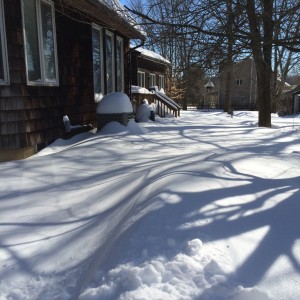 That's the side of my house after a snowstorm last year. Today we have only about a third of the snow (probably not more than 8 inches today) but it is way too cold and windy for me to want to take pictures. I set out to meet a client at my office after being home all day, encountered slick roads with masses of snow blown across them, and there was a big accident with people in the ditch, tow-trucks, police cars, lots of lights, completely blocking the road out of town. I came home and called the client to cancel.
We're all disabled, more or less, by the snow. My email yesterday was full of notices of cancelled meetings in anticipation of today's winter storm. Danny and I both worked from home; college classes were cancelled for Adam. Adam cleared the steps and got a car un-buried and running for me – we'll have to deal with the rest tomorrow. Snowy days tend to make me feel simultaneously peaceful and antsy – I want to take a nap, I want to run around. I'm just glad I don't have a migraine.
To add to the litany of injuries and ailments, I managed to herniate a disc in my low back right after Christmas. After several weeks of physical therapy it is feeling much better. I did have a fair amount of pain yesterday and my physical therapist said she thought it was probably the storm coming. I really don't need another weather-predicting injury. Between my formerly broken elbow, my sensitive head, and my overall nervous system, I already had this human-barometer thing covered. The good news is I have a great excuse not to shovel any snow.
My weather sensitivities used to be mainly around thunderstorms – when a front moved in, I would get a migraine. And often a fibromyalgia flare to go with it. And a sore elbow. The past few summers I've been less consistent and weathered any number of thunderstorms without a migraine, but the past few winters I have had migraines triggered by snowstorms rolling in. Those of you who live in snowy climes – you know that peaceful feeling when the snow is falling? I have really missed that, and the snow falling tends to have my head exploding. Not today, I am glad to say. I had a few twinges in the worst of the storm, and when I tried my expedition out my head informed me that it was not keen on the wind that's blowing out there. But I am counting my blessings. I'm back inside, and warm, and feeling no pain.
Be well, my friends!
- Megan Oltman
Tags: Adam Oltman Porcher, Adam Porcher, fibromyalgia, herniated disc, migraine, weather-related migraine
Posted in Managing, Science | Comments (0)
August 9th, 2009

Now I know Migraine occurs in all human cultures, and people of all hair colors as well as all sorts of other characteristics, but I am interested in conducting a very unscientific study here… and certainly interested in knowing if any real studies have been done of this (I don't know of any).
An article in the New York Times yesterday entitled The Pain of Being a Redhead discussed several studies which indicate that redheads are resistant to anesthesia, take on average 20% more medication to anesthetize (which has been known anecdotally by anesthesiologists for years), and may have a higher sensitivity to pain than the general population.
I shared this link on Facebook and very shortly got comments from 4 redheaded Migraineur friends! Now the comments were all over the place. Most of us agreed that as Migraineurs we deal with so much pain on a regular basis that we think our pain threshhold is higher rather than lower, though several of us have had the experience of being resistant to anesthetic or pain-relieving drugs. But here's what I'm curious about – is there a high correlation between red hair and Migraine, or was my little flurry of redheaded Migraine buddies just a fluke?
Tara Parker-Pope, the article's author, states that
a mutation in the MC1R gene results in the production of a substance called pheomelanin that results in red hair and fair skin. The MC1R gene belongs to a family of receptors that include pain receptors in the brain, and as a result, a mutation in the gene appears to influence the body's sensitivity to pain.
If we redheads have a genetically altered sensitivity to pain, are we more prone to chronic pain conditions? I have no idea – but I do wonder!
- Megan Oltman
Tags: chronic pain, migraine, New York Times, pain sensitivity, red hair
Posted in Medicine, Musings, Science | Comments (10)
February 25th, 2009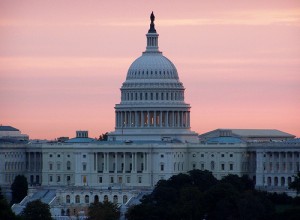 I spent the day yesterday doing something I've never done before – lobbying Congress.  I'm not entirely sure I would ever have predicted that I would lobby Congress.  It was a great experience, and one that I'm sure will take me several posts to process and tell you about.  But I can at least get started.  The Alliance for Headache Disorders Advocacy (ADHA) is a wonderful group of doctors, advocates, writers and researchers who are fighting for better headache care for YOU.  I arrived in DC on Monday for a training session put on by the AHDA and learned some key things about the underfunding of Migraine and headache disorders research, and about how to lobby.
Nearly 40 of us spent Tuesday on Capitol Hill speaking to legislators and legislative aides.  I visited two senators and three congressmen from my state, along with another Migraine sufferer.  We were requesting that they add language to the 2010 appropriations bill which will direct the National Institutes of Health (NIH) to spend a larger share of their funds on Migraine and Headache Disorder research.
Here are some of the things I learned, straight from the AHDA fact sheet which we shared with the legislative aides:
Headache Disorders are the most prevalent neurological disorders.  This year:
More than 25% of middle aged American women will have a Migraine attack.
25% of American families will have a member with a Migraine attack.
19% of all Iraq war veterans will have a Migraine attack.
12% of all Americans will have a Migraine attack.
4% of all Americans will have chronic daily headache.
US costs for headache disorders this year will be:
greater than $31 billion in total economic losses.
9% of all lost labor productivity.
greater than the costs due to epilepsy, asthma and ovarian cancer combined.
Migraine is extremely disabling, resulting in:
attacks that can be as disabling as quadriplegia or active psychosis.
more lost years of healthy life in the US than due to epilepsy, multiple sclerosis, and ovarian cancer combined.
an increased risk of cardiovascular disease leading to at least 1500 additional deaths in the US annually.
What has the response of the NIH been so far?  The NIH is responsible for funding, with our taxpayer dollars, the basic research that makes medical innovation possible.  So far the NIH funding for research on headache disorders is less than $13 million annually which comes to less than 0.05% of the NIH budget. Research of NIH funding relative to disease burdens (the impact of a disease on society, including prevalence, economics, disability, and mortality, as discussed above), shows that a fair share of funds for headache disorders (compared to other diseases with similar disease burdens) should be at least $103 million annually.
We got a good reception, particularly from our senators' aides.  There is more work to do, but I think we are making an impact.  You can make an impact too.  Go to the ADHA site and sign up for their action alerts.  On Monday, March 2 we will be asking you to email your congressional representatives, asking them to sign on to the language directing the NIH to do the right thing with regard to headache disorders.  If you sign up for AHDA action alerts today, taking action next week will be as easy as a couple of clicks.
- Megan
We can make a difference!
US Capitol image courtesy of Kim Baker.
Tags: AHDA, Alliance for Headache Disorders Advocacy, Chronic Daily Headache, disability, disease burden, headache disorders, migraine
Posted in Advocacy, Current Affairs, Medicine, Science, Uncategorized | Comments (9)
July 24th, 2008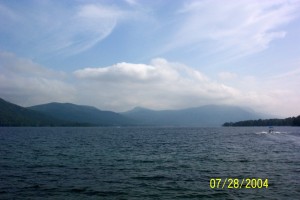 This is where I am now as I write you.  A beautiful lake in the mountains, where I come every year with a group of friends and extended family, and hike, swim, kayak, and rock on rocking chairs on a  big porch overlooking the lake.  So why am I writing now?  For one thing, it's been pouring much of the week!  For another, I spent yesterday in my room with a migraine.  A friend posted this link to a Scientific American article on Migraine disease, and I wanted to share it.  She called herself a nerd for having a Scientific American subscription; I guess that makes me a real Migraine Geek for choosing this for my vacation reading!  But it's really fascinating!
Here's the link to the article, which explains and summarizes new research into how migraines actually start in the brain and central nervous system: Why Migraines Strike. It's a long article, but well worth reading
to better understand what is going on in our brains, and new possibilities for treatment. I think the most important point, made by the authors in the last paragraph, is that the evidence is overwhelming that this is a real, congenital disease, a significant difference in brain function. Wave this article in the face of those who still won't believe Migraine is a disease! A few points that really struck me:
There is strong evidence suggesting that the tendency to Migraine is genetic, but there are a number of different genes involved, and the same genes are not involved for every migraineur.

This may provide some explanation of the wide variety of symptoms experienced by different migraineurs and the variance in effectiveness of treatments from one person to another.
The differences between migraine with and without aura may be explained by a phenomenon called cortical spreading depression, an abnormal kind of neuronal activity, which moves across the brain like a storm, affecting visual centers in some, motor centers in others, and perhaps even explaining the irritability, sleepiness and brain-fog experienced by those without aura, as the brain centers involved come under the "storm."  Thus the pro-drome symptoms experienced by those of us without aura may be another kind of aura!
Triptan drugs, which constrict blood vessels (which is why they are contraindicated for many with heart conditions or high blood pressure), were created when the prevailing theory of the cause of Migraine was vascular.  Luckily, they also inhibit the neuronal activity which is the actual culprit!  However, the new understandings of Migraine as a neurological condition makes development of newer, more specific abortive drugs possible, and several are under development.
Read the article and let me know what you think.  A few of my non-migraineur friends and relations up here even found it interesting.  More fodder for helping others – and ourselves – understand!
See you!  I'll be heading out on the lake – as soon as it stops raining!
- Megan
Tags: cortical spreading depression, genetics, migraine aura, Migraine disease, Scientific American, vacation
Posted in Medicine, Science | Comments (2)
July 1st, 2008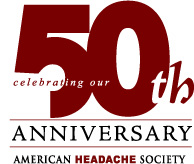 Last week the American Headache Society held its 50th annual conference in Boston.  You may have read other news of the proceedings and the many new discoveries, inventions, understandings, and treatment options that were presented at the conference.  Lead expert Teri Robert of My Migraine Connection and Migraine blogger Eileen of My Life with Migraine attended the conference and will be posting a lot of information in the weeks to come.  If I may relay some tidbits second-hand, I was inspired to hear of their experiences in a collegial atmosphere where a number of dedicated medical professionals and advocates are working and sharing ideas to help bring us relief from this life-stealing disease.   I wish I could have gone along, but first things first.  I need to get my own migraines under better control before attending conferences, which have always tended to trigger me.  Though I suppose there might be no better place to be with a migraine!
The conference will provide material for many posts, both here and all around the Migraine blogosphere.  I'm going to share a couple of highlights that I am particularly interested in, and we'll touch on more of the new information as I have a chance to digest it.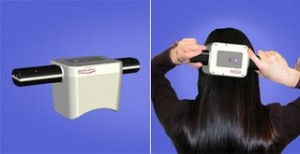 One new device which looks promising is the transcranial magnetic stimulation, or TMS, device.  Tested for use by those suffering from Migraine with Aura, the TMS device is held at the base of the skull at the first sign of aura (visual and sensory disturbances experienced by about 20% of migraineurs).  You push a button to deliver two short magnetic field pulses to the brain.  Apparently these pulses scramble and abort the abnormal electrical activity which takes place in the brain during a Migraine attack.  The basic black and white model looks good for this raven-haired lady; maybe they'll come out with some more colors soon!  But seriously, this is a great alternative, since everyone can't use triptans, and even if you can, triptans knock you out of action for a while.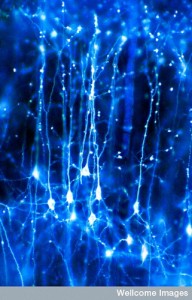 New research was presented about Why Pain Becomes Chronic.  New understandings of how pain becomes chronic can help headache specialists develop new therapies which can help sufferers with Chronic Daily Headache.  One of the new understandings involves the role of glial cells in the brain, which agitate neurons, increasing pain signals to the brain.  Use of opiates appears to activate glial cells, so can contribute to the development of chronic pain.  Research was also presented indicating that expectation of pain affects its severity, that in the case of chronic pain, the nervous system "over-reacts" but that this overreaction is physiological, not psychological.  A very important distinction – biological changes have been observed in the nerves themselves.  In other words, the pain is "all in our heads," in physiologic structures in the brain, not "all in our heads" in any psychosomatic sense.  I must say I feel vindicated – read my post It's All in your Head on the difference between what's in our heads physiologically and the old psychosomatic accusation we are so often subjected to.
Yet another piece I am particularly interested in deals with Migraine in women and the role of hormones and the menstrual cycle.  More on that when I know more!
Overall, the good news is, there are good people out there looking out for us, working hard to find ways to treat this disease.
- Megan Oltman
Neurons image courtesy of Rebecca Radcliff.
Tags: American Headache Society, Chronic Daily Headache, chronic pain, glial cells, Migraine treatment, Migraine wih Aura, transcranial magnetic stimulation
Posted in Advocacy, Medicine, Science | Comments (4)
June 27th, 2008
I was recently presented with a dilemma here on Free my Brain. I want to encourage dialog and exchange of ideas, but I don't intend to provide an open marketplace for sale of migraine "cures."  (Though I will gladly support and even promote helpful products and services.)  Migraine is a complex, genetically based, neurological disease.  The frequency and severity of migraines vary enormously from person to person; so do the number and complexity of triggers and other contributing factors.  What we know now is that this is a neurological disorder, a differently ordered nervous system, if you will, which has existed throughout human history.  Like many congenital conditions, there may have been a valid evolutionary reason for this mutation at one point.  Maybe migraineurs were the human barometers, predicting disastrous weather changes for primitive societies.  I had fun speculating on the evolutionary basis of migraine in the post Our Ancestress: A Fable.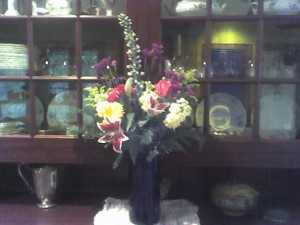 I have heard from many people who have done just one thing and their migraines have gone away.  To them I can only say mazel tov!   (Congratulations!)  Here is a bouquet of flowers to celebrate!   For some it is eliminating just one trigger.  For others it is a particular nutritional supplement, a practice of meditation, regular exercise, a medication, a surgery, pregnancy, menopause, a life or lifestyle change.   I don't know if there are statistics on how many migraineurs find relief from just one thing.  I do know there are large numbers of us out here who need to find a combination of factors to manage and control our migraines.  Here is a bouquet of flowers to console us!  There is no "cure" for a genetically based neurological condition, any more than there is a "cure" for my red hair and green eyes.   (Well, another 15 – 20 years may pretty well eliminate the red hair.)
A great place for some very basic facts and information about Migraine is the recent quiz at My Migraine Connection: Dispelling Migraine Myths.   The two books on migraine featured in the left side-bar on this page are both great resources for learning about migraine and how to manage it.  There is much we can do.  For most of us, we can reduce our migraines significantly.  You have probably heard me say before that I have reduced my own migraine frequency by about 50% through use of abortive medications, supplements, trigger avoidance, relaxation and meditation, and lifestyle changes.
Someone submitted a comment to one of my posts stating that 1) Migraine isn't a disease; 2) there is a cure for Migraine "within us;" 3) he had over 20 years of migraines which are now gone; and 4) you can "retrain" yourself so you have no more migraines; he then went on to promote his methods.  I am genuinely happy for the commenter that his migraines are gone.  I am certainly curious about his methods, and glad that he wants to help others.  I don't mean to suggest he had any but the best motives.  But I am wary of anyone's claim to have a cure.  After some deliberation, I decided not to publish the comment and link.
There are two ways to look at "retraining."  A nervous system which can be easily triggered into a Migraine attack can be viewed as an over-excitable or hyper-reactive nervous system.  Regular practice of meditation and relaxation can help us reduce the excitability of our nervous systems.  Note that this is not a "cure;" it is a supportive exercise or practice which can strengthen our system's ability to resist triggers.  You could call this "retraining."
But there is another view of retraining which comes from an idea that Migraine disease is psychologically generated.  It is not.  It is a real, physical condition.  It is no more psychological than epilepsy or scoliosis.  I view with rage books like Louise Hay's "You Can Heal Your Life" which suggest that right thinking can solve all our medical problems.  She suggests that "Migraine headaches are created by people who want to be perfect and who
create a lot of pressure on themselves. A lot of suppressed anger is
involved…"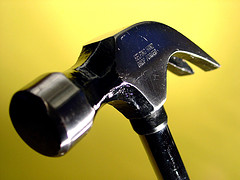 And so, if we work like crazy in therapy, meditate, recite mantras and do whatever highly subjective steps Hay seems to think will enable us to let go of the anger and pressure, if we do all that and we still have Migraines, then what?  We failed?  It's like telling someone the devil is causing their Migraines and they just have to really believe in God.  "I do believe!"  "If you really believed the devil would leave you and your Migraines would be gone!"  "But I really do believe…"  It's just a very sneaky way of blaming the victim!
I wish we could do a scientific study of people who want to be perfect and who put pressure on themselves.  In the first place I bet you that's at least 75% of the population.  And I bet you dollars to donuts that 12% of all the perfectionists would turn out to have Migraine disease.  And I bet that 12% of all the non-perfectionists would have Migraine disease too.  What's the incidence of Migraine disease in the general population?  12%!  I think you get my point.
I have been told that if I only distinguished the beliefs from my past that were making me have Migraines, they would disappear.  I will admit I tried to do that.  Like anyone else, I have a past and beliefs were formed in it!  Some of those beliefs are limiting to me.  In a life of nearly half a century, with plenty of self-help, support groups, personal development courses, and therapy, I think I've managed to identify most of those beliefs.  So why am I not cured of Migraines?  Is it my fault?  Or, wait, could it be that I have a genetically based, incurable neurological condition?  Hmmm…  Which is the more logical conclusion?  And which is more empowering?
For me, the answer is clear.  I am 49, a woman, 5'2″, a redhead, a migraineur.  These are facts.  I get choices about what I do with those facts.  I am choosing to vigorously pursue better and better Migraine management.  I am not wasting my mental or emotional energy on "cures."  Or at least I won't, once I'm done with this rant!
- Megan Oltman
Curing is good for meats, cheeses, wines, paints… Maybe our heads don't need it?
Hammer image courtesy of Darren Hester
Tags: blaming the victim, evolution, genetics, Louise Hay, meditation, Migraine disease, Migraine management, nervous system
Posted in Books, Communicating, Managing, Medicine, Rant, Science | Comments (4)
March 13th, 2008
Here is the text of a letter sent Tuesday of this week to all of us on the AHDA (Alliance for Headache Disorders Advocacy) mailing list.  The time is now to contact your congressperson and urge him/her to support more research funding for headache disorders.  The ADHA link below makes it very easy to do.  Please help NOW.
Dear AHDA advocates -
Well, the key moment has arrived for you to contact your Member of the US House of Representatives to take action for increasing NIH research for headache disorders.
A Dear Colleague letter was sent yesterday by Representatives Peter Welch and James Moran to all House offices, urging all Members of the House to co-sign a letter to Representatives David Obey and James Walsh. The Obey/Walsh letter requests inclusion of language that supports headache research to be appended to the FY09 appropriations bill for NIH. (For details, see the letter and attachments at the AHDA site.)
The more Representatives that co-sign the Obey/Walsh letter, the greater are the chances that the language will be included. The Obey/Walsh letter must be submitted with signatures by 3/19. This unfortunate deadline was a late-breaking surprise for us, so we have little more than a week to get as many signatures as possible. Please go to the AHDA website as soon as possible to contact your Representative and urge her/him to co-sign the Obey/Walsh letter now.
Blessings upon your heads!
- Megan Oltman
Tags: Alliance for Headache Disorders Advocacy
Posted in Current Affairs, Medicine, Science | Comments (2)