March 10th, 2008
In today's London Daily Mail, reporter Theresa Devereux raises the question:  Can botox injections poison your body?   According to Devereux, this question was studied by Dr. Walter Herzog of the University of Calgary, Alberta, who found that the toxins in botox may not stay localized in the muscles into which they are injected.  The abstract of the research by Dr. Herzog, M. Yaraskavitch & T. Leonard, published on January 9, 2008, can be found in the Journal of Biomechanics here. Dr. Herzog et al studied the effect of botox injections in cats and concluded that the injections caused measurable weakness in neighboring muscle groups.
Read the entire Daily Mail article here.
The US Food & Drug Adminstration (FDA) has been investigating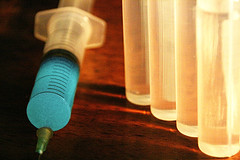 reports of severe side effects from some medical uses of botox, and conducting their safety review, for some time.  It is not clear to me whether the results of Dr. Herzog's study add anything new.
Given that botox is based on the toxin botulinum, which causes muscle paralysis, if it spreads beyond the injection site into other muscles, the consequences could be serious.  Devereux states:
The FDA is not advising doctors to stop prescribing the drug, but
they are conducting a safety review and say the reactions may be due to
overdosing.  However, they are warning patients that they should receive
immediate medical attention if they have worsening or unexpected
difficulty in swallowing or talking, trouble breathing or muscle
weakness following any injection of Botox.
The dangers appear to be acknowledged in the Botox labeling.  Migraine Blog reported on February 8, 2008, that:
The Warnings sections of the labeling for both botulinum toxin products
note that important systemic adverse effects, including severe
difficulty swallowing and difficulty breathing have occurred in
patients with neuromuscular disorders after local injection of typical
doses of botulinum toxin.  FDA now has evidence that similar,
potentially life-threatening systemic toxicity from the use of
botulinum toxin products can also result after local injection in
patients with other underlying conditions such as those with cerebral
palsy associated limb spasticity. Systemic toxicity has been reported
in children, several of whom required feeding tubes and/or ventilation
(breathing) support.
Migraineurs please read the research, and follow up with your doctor if you have any concerns.
- Megan Oltman
hypodermic image courtesy of happysnappr/Adrian Clark
Tags: Botox, Migraine treatment, US FDA
Posted in Medicine | Comments (2)